COVID-19, Communities, and the Planning Profession
We are all experiencing the severe impacts from COVID-19 on our personal lives, our work situation (if we still have a job), the cities and places we live in, and the entire world around us.
As APA's research director, I'd like to explain how we at APA are approaching the questions of what the impacts on cities and communities are and how this pandemic affects the planning profession. I will describe our process of identifying current pain points, how we "learn with the future," and what we do to prepare for new uncertainties coming out of this pandemic.
I hope to spur your interest in joining APA on this journey and engaging with us in discussions on how to tackle these challenges.
At APA, we are looking at the COVID-19 issue through two lenses:
What are the impacts on cities and communities — the built environment and the people who live in it — and how do they relate to planning?
What are the impacts on the way planners do their work and on the planning profession in general?
In addition to our emergency responses to immediate impacts, we need to start asking what all of this may mean for the future. What will social distancing do to our society in the long term? How will COVID-19 change how we interact in public space, how we use public infrastructure, and how we live, work, play, and move around?
What will be the impacts on our economy and how will they change urban life? What fiscal impacts on cities can we expect and how will they affect planning department budgets specifically?
Though many of these questions can't be answered today, we need to start thinking about them and considering them in our work as planners.
Foresight
At APA, we started a Foresight practice last year as a way to "learn with the future," prepare for uncertainty, and navigate change. We are now using this approach to analyze the possible impacts from COVID-19, explore scenarios throughout different timeframes, and look for solutions that will enable us to continue creating great communities for all in the future.
The goal of our work is not to predict the future but to prepare for what might be coming. The pandemic we are currently facing shows how unexpected change can disrupt the entire world and turn our lives upside down from one day to the next. Now is the time to try to understand and start preparing for what the future implications of this disruption will be.
Through Foresight, in addition to the two lenses described above, APA is looking at three different time frames for COVID-19 related impacts:
1. For the short-term timeframe, we are focusing on the emergency response to COVID-19, including immediate actions and short-term tactics.
This is where we identify current impacts on communities and cities, such as the decline in public transit use (lens #1), and current pain points planners are facing in their day-to-day work, such as the need to work from home (lens #2).
2. For the medium-term timeframe, we are looking at the impacts to come over the next several months, evaluating which actions will serve as interim solutions and which may be a transition to a new normal.
Our task here is to identify how certain behaviors — the way people live, work, play, and move around in their communities — will change in the next months and how this may affect both the way communities and cities operate in the future and the profession of planning.
3. For the long-term timeframe, we are raising the question of what all this may mean for the future.
We will try to make sense of different developments, comprehend what they will mean for the future, and understand how we can begin to prepare for them today.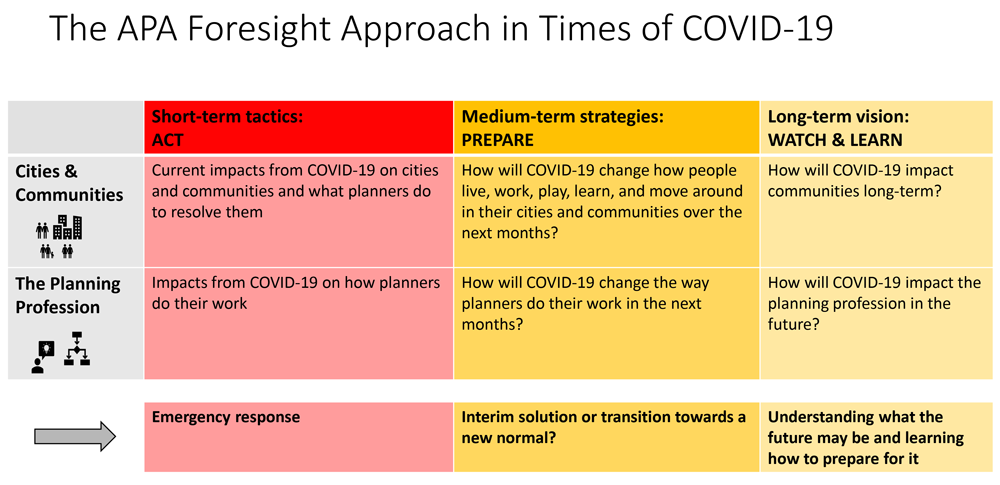 By talking to planners through different channels and platforms, APA is identifying current pain points and different actions planners are taking, evaluating what we need to prepare for, and, by "learning with the future," trying to understand what's coming.
Lens 1 Examples
For example, using the community lens we see that public transit use across the nation has dropped to alarming lows due to social distancing measures requiring people to work and study from home and nonessential businesses to close. How can cities continue to support alternative transportation options to prevent a wholesale return to personal auto travel?
Bogota, the capital of Colombia, took immediate action by converting 13 miles of roadway to bike lanes overnight to provide enough capacity for bus users to switch to bicycle travel. In New York City, use of the local bikeshare program Citi Bike surged in March, prompting calls for similar actions.
Looking at these emergency responses, the questions are: What could this mean for the future? Will more people discover the convenience of riding their bikes around town? How can we make sure the bike will continue to be the most attractive option? And in the light of decreasing traffic in general due to shelter-in-place, would this be the time to rethink our transportation network as a whole?
Another example of COVID-19-related impacts on cities and communities is what is currently happening within the sharing economy. 
Uber and Lyft have suspended their pooled ride service due to COVID-19. In some cities, scooter companies have suspended their services completely, and Airbnb is compensating some of their hosts for cancellations due to COVID-19.
Beyond the impacts on the economy as a whole, how will this pandemic affect the sharing economy, a phenomenon and disruptor in the urban space planners have been trying to accommodate for more than a decade? Will this change our discussion on autonomous vehicles and their deployment in a sharing economy within a "city on demand"? Will social distancing impact our future behavior on how we share space and infrastructure? 
Lens 2 Examples
For our second lens, through hearing from our members about their immediate challenges in dealing with COVID-19, APA has identified a number of pain points so far:
How can planners conduct public meetings during times of social distancing? To what extent can an online meeting replace the in-person experience and fulfill legal, procedural, and ethical requirements?
Is planning an essential service?
What will the financial impacts on local government budgets and the related impacts on staffing of planning departments and capital projects be?
How can I effectively work from home?
On top of these operational issues, questions regarding approaches, planning objectives, and priorities are haunting our minds. Even during this crisis, we must not forget to continue working on challenges our profession has been dealing with for years and decades: from climate change mitigation and adaptation, to tackling homelessness and the housing crisis, to advocating for dense and walkable neighborhoods, to equity and inclusion issues including the digital divide, and others.
How can we make sure that we include these issues in our emergency response, while considering the medium-term and long-term effects?
Impacts on Planning
This pandemic affects every aspect of our work.
We can already see the economic impact of this pandemic with unemployment numbers going up like never before. We will be facing societal impacts related to months of shelter-in-place, social distancing, and the economic crisis. There will be environmental impacts, possibly positive ones from changes in our behaviors, but also potentially negative ones from rebuilding the economy if we miss out on putting the right measures in place.
Political impacts will depend on the severity of all impacts in general. And last, but not least, technological impacts may result in new opportunities for how we respond and prepare for this new future.
What's Next?
I'd like to invite our members, our elected leaders, and you — the reader of this blog post — to join us on this journey, to share with us what pain points you are experiencing, and discuss successful solutions to continue our mission of creating great communities for all.
Top image: Social distancing on transit. Getty Images photo.
---
About the Author
Petra Hurtado, PhD, is APA's research director.
---
April 8, 2020
By Petra Hurtado, PhD
---
---