Growing Local: Strengthening Food Systems Through Planning and Policy
Local governments are becoming increasingly involved in planning and policy making for community food systems, both as leaders and as partners with the private sector. Often responding to community pressure, in some cases they are the driving force, motivated by a desire to strengthen local economies, improve food security and nutritional outcomes, and to support agriculture and preserve farmland.
Growing Food Connections was a five-year partnership to assess, amplify and apply food system innovations through local government planning and public policy. Its goal was to promote community food security and agricultural viability to achieve more equitable and resilient food systems.
Led by the University of Buffalo, American Farmland Trust, Cultivating Healthy Places, and Ohio State University, the core team partnered with American Planning Association and a National Advisory Committee to conduct research, advance graduate level planning education and to extend to communities through on-the-ground policy and practice.
The partnership studied outstanding communities from across the country to find out what works, focusing on local governments that have created plans and enacted policies to support farm and food security. These were called "Communities of Innovation."
Growing Food Connections also worked closely with eight "Communities of Opportunity" that wanted to address food insecurity and agricultural viability. They were selected through a competitive national application process, and the partnership provided technical assistance and training to help them develop visions, goals and strategies, engage diverse community residents, and ultimately to develop plans and policies to strengthen their food systems.
These experiences led to the creation of Growing Local: A Community Guide to Planning for Agriculture and Food Systems. This new national guide showcases ways communities can strengthen their food systems through planning, policy, and public investment. It includes the most comprehensive collection of local policies ever assembled to support local farms, improve access to healthy, affordable, and culturally appropriate food, and develop needed distribution and food system infrastructure.
Written for diverse audiences including planners and local government officials, this practical guide highlights real life examples of ways communities can create connections between field and fork.
While the partnership found important principles and promising practices to inform this work, every place is unique. Because there are no "one size fits all" solutions, Growing Food Connections wanted to share tried and true approaches as well as creative innovations being used by communities to achieve their goals.
The guide provides an overview of food system issues, explains key terms, and its implementation toolbox shares concrete examples from communities all along the rural urban continuum. It also provides a resources section and checklists for communities to evaluate how farm or food friendly they are.
"Growing Local is an excellent resource, sharing successful policies and approaches to food systems development from across the country," said David Rouse, managing director of research and advisory services for the American Planning Association. "It identifies key places in the planning process where a community can address the viability of local farms and improve healthy food access — from civic engagement, to visioning and goal setting, to developing solutions to grow its economy and the well-being of its residents."
Growing Local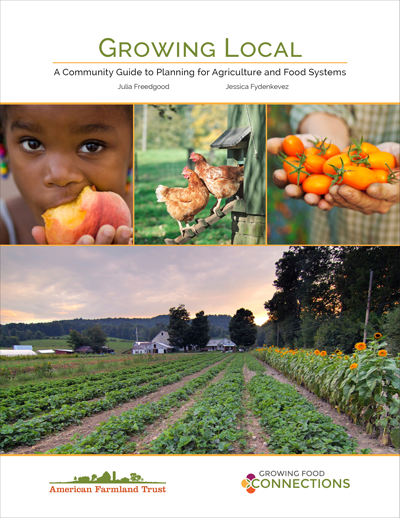 Growing Food Connections was made possible with a grant from the USDA/NIFA AFRI Food Systems Program NIFA Award # 2012-68004-19894.
American Farmland Trust is a national conservation organization dedicated to protecting farmland, promoting sound farming practices and keeping farmers on the land. Learn more at www.farmland.org.
Top image: Farmhouse and crops. Thinkstock photo.
About the Author
Julia Freedgood is assistant vice president of programs at the American Farmland Trust. Contact her at
jfreedgood@farmland.org
.
---
September 26, 2017
By Julia Freedgood
---
---