People Behind the Plans Podcast Series
People Behind the Plans is a podcast series from the American Planning Association that explores the business of planning for the built environment.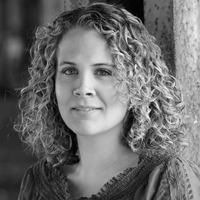 Hosted by Courtney Kashima, AICP, planner and small business owner of Muse Community + Design in Chicago, this podcast series features conversations between planners on work, life, ideas, and problem-solving in a variety of communities.
Get details on the podcast episodes and access each episode below. You can find additional podcast series on the APA podcast page.
---
Episode 18
Commissioner Josina Morita
The Great Lakes hold 20 percent of the world's supply of surface freshwater. When urban planner Josina Morita moved from California, where a mentality of scarcity around water dominates, to Chicago, where the opposite is true, it got her thinking: How can we be good stewards of the Great Lakes, one of our most precious natural resources? How can we keep ourselves accountable to the rest of the country and the world? Josina now serves as Commissioner of the Metropolitan Water Reclamation District of Greater Chicago (MWRD), which manages stormwater and sewer water for Cook County, Illinois. But the organization also sees themselves as an environmental agency, and they pilot exciting new green technologies at many of their plants. Josina describes several of them in the episode and the promising ways they're advancing the industry, saying, "The last thing anybody thinks about is drinking their own sewer water, but the technology is there, and water is becoming its own renewable resource." She and Courtney also discuss how budgets are a reflection of a community's values and why taxes make all the difference in a community's infrastructure, as well as Josina's passion for racial equity and making sure everyone has a seat at the table.
---
Episode 17
Nina Idemudia, AICP
During her upbringing in Detroit, Nina Idemudia, AICP, thought a lot about how the built environment influenced her life. She went on to discover planning during her studies at the University of Michigan, and she knew it would be the framework she'd use to instill lasting change in the world. Currently Nina works as a city planning associate with the City of Los Angeles Planning Department, and she serves as the Young Planners Group coordinator for the APA California Chapter. Nina shares her passion for community engagement with listeners, talking about the sometimes surprising roadblocks that prevent residents from participating in the planning process and the simple ways planners can address these problems. Throughout the entirety of this lively conversation, she underscores how dire it is that planners make equity the bedrock of everything they do — and why it's OK to ask for help in this area whenever needed.
---
Episode 16
Mark de la Vergne
What is mobility? It's simply the ability to get somewhere, says Mark de la Vergne, chief of mobility innovation for the Mayor's Office in Detroit. But when it manifests in the real world, this essential facet inevitably presents challenges for all types of municipalities, from New York to Austin to Seattle. In Detroit's case, those challenges have been built up over years of policy decisions, but Mark's job is to alleviate pain points by bringing in new technologies and services. In the last year, the city has embarked on a series of innovative pilot projects revolving around transportation solutions, such as bringing more car-share vehicles to Detroit's neighborhoods so residents living beyond the city's core have alternatives to car ownership. His big-vision goals include improving existing and adding new connected technologies to the city's infrastructure — not to drum up hype but to actually address safety and operational issues. Mark names empathy as a crucial aspect of his work, because knowing what kinds of frictions exist for different people around the city is key to serving all Detroiters.
---
Episode 15
Taryn Sabia
Resilience, civic infrastructure, participatory design — these topics and more play important roles in Taryn Sabia's work. Taryn is the director of the Florida Center for Community Design and Research at the University of South Florida's School of Architecture and Community Design, where she's also a research associate professor. In a wide-ranging conversation with host Courtney Kashima, AICP, she talks about why planners must encourage the development of a civic infrastructure in their communities — and how they can do that. Taryn discusses the Mayors' Institute on City Design, which she hosted in 2014 and 2017 and gives city officials the opportunity to work with planners, architects, and designers on tough development challenges in their cities. In reflecting on the interdisciplinary nature of her work, she underscores the need for allied professions to come together on resiliency issues — such as building erosion due to saltwater inundation — as many Florida communities grapple with these realities on a daily basis.
---
Episode 14
Bob Becker, FAICP
New Orleans's City Park claims some impressive titles: At 1,300 acres, it's the largest regional park in Louisiana, and it ranks as the most visited park in the state at nearly 15 million visits per year. But that wasn't the case 13 years ago, when Hurricane Katrina hit on August 29, 2005, and devastated the city — including that well-loved civic space.
For this special episode of People Behind the Plans, recorded in New Orleans at the National Planning Conference earlier this year, Courtney hears from Bob Becker, FAICP, CEO of City Park and an adjunct professor at the University of New Orleans. During the first half of the episode, Courtney and Bob look back on the effect of Hurricane Katrina on the park — every building damaged, 2,000 trees destroyed, and 90 percent of its funding gone overnight. Just five months before the storm hit, the organization finished devising a new master plan for the space, and Bob stresses how important that document was for charting a course forward during the recovery effort. (In fact, their work was recognized with a 2010 National Planning Excellence Award for a Hard-Won Victory.) During the second half of the episode, Bob talks about his career trajectory, including how he ended up doing planning work in Kuala Kencana, a company town in Papua, Indonesia, and how he finished a PhD program at a later-than-typical point in his career.
---
Episode 13
Kate Hartley
Kate Hartley laughs when talking about what could have been if she had chased a career in legal history, the academic path she started on while in graduate school at the University of California, Berkeley. But after taking a couple urban planning classes on a whim, she never looked back. Nowadays, Kate focuses on all things housing as the director of the
Mayor's Office of Housing and Community Development (MOHCD)
in San Francisco. She and Courtney discuss how the Affordable Housing Bonus Program leverages incentives to create affordable housing and why it's so difficult to deliver units for middle-income households in the city. Kate praises the
Mission Action Plan 2020
, which focuses on decelerating the rate of eviction and displacement in the famed neighborhood. She talks about the challenges inherent in her work but also projects from other cities that inspire her, such as
Vancouver's investment in modular housing for homeless households
. (Photo courtesy the Mayor's Office for Housing and Community Development.)
---
Episode 12
Greg Lindsay
Courtney welcomes to the podcast
Greg Lindsay
, who visited Chicago in March for the
2018 National Shared Mobility Summit
, and the two grapple with how developments in technology are radically changing cities and affecting the work planners do across the country. As a journalist, urbanist, futurist, and speaker, Greg thinks constantly about cities, and he argues that we've chosen to make living in the dense urban core a luxury good. Greg is also a senior fellow at
NewCities
and the director of strategy of its offshoot
LA CoMotion
— an annual urban mobility festival in the Arts District of Los Angeles — as well as the coauthor of the book
Aerotropolis: The Way We'll Live Next
, which Courtney and Greg discuss. The phenomenon of co-working and co-living spaces, tactical urbanism, and the equity implications of certain technologies also make their way into this dynamic conversation.
---
Episode 11
Mitchell Silver, FAICP
Mitchell Silver, FAICP, thinks parks are more than just islands of green spaces — much, much more. As Commissioner of the
New York City Department of Parks and Recreation
, Mitch makes it his mission to understand how people use these critical urban spaces, and he aims to ensure that children, adults, seniors, and everyone in between have access to a quality 21st-century park system.
Courtney caught up with Mitch during the 2018
National Planning Conference
in New Orleans, Louisiana, and the two discussed not only how he was shaped by a childhood spent blocks away from Brooklyn's Prospect Park, but also how seriously he takes public engagement when working with residents on park projects. He touches on some of the initiatives under way in his department and highlights a few of the less well-known examples of park success stories in New York City, including St. Mary's Park in the Bronx and Highbridge Park, home to the city's oldest standing bridge. Mitch reflects on his time in Raleigh, North Carolina, where he served as Chief Planning & Development Officer and Planning Director and sought to encourage growth in a community once hesitant to change. He also shares his views on equity, which he defines simply as fairness, in a bid to eliminate the jargon planners can sometimes employ when discussing the subject.
---
Episode 10
Kristin Saunders
In the tenth episode of the series, Courtney talks with Kristin Saunders, principal transportation planner with the City of Pittsburgh's
Department of Mobility & Infrastructure
. They discuss the new department's five ambitious goals relating to safety, access, reliability, affordability, and engagement. They cover Kristin's work on the city's bike plan and the City Steps Assessment, which aims to understand how each one of Pittsburgh's 800 public staircases fit into the pedestrian network. The two even tackle the commotion surrounding Pittsburgh Steelers' player JuJu Smith-Schuster and his stolen bicycle, which saw the city come together in support of finding the athlete's primary mode of transportation.
---
Episode 9
Jarrett Walker
In the ninth episode of the series, transit planner and author Jarrett Walker offers up his thoughts and musings on all things transit. Jarrett reflects on growing up in Portland in the 1970s, a revolutionary period in the city's history. He describes how his firm,
Jarrett Walker + Associates
, helps cities and regions think about public transit (hint: they aim
not
to make recommendations but to help each client clarify their own values and priorities). Courtney and Jarrett discuss his book,
Human Transit: How Clearer Thinking About Public Transit Can Enrich Our Communities and Our Lives
, and they delve into the role of the private sector in transit operations. They close out their conversation with a discussion of elite projection, the idea that what a wealthy person might want for his or her city might not be the best thing for the majority of its people. (Photo by Public Transport Victoria.)
---
Episode 8
Doug Farr
Host Courtney Kashima, AICP, sits down with Doug Farr, a founding principal and president of
Farr Associates
and the author of 
Sustainable Nation: Urban Design Patterns for the Future
. He and Courtney discuss the book's unique approach to creating and improving neighborhoods. They also consider how Doug's hometown of Detroit influenced him in his career trajectory, why equity is crucial in the planning process, and how planners use language in crafting plans and defining outcomes.
---
Episode 7
Joanna Trotter
In this episode of People Behind the Plans, Courtney Kashima, AICP, interviews Joanna Trotter, Senior Program Officer for Economic and Community Development at the
Chicago Community Trust
. The conversation touches on the organization's work funding community initiatives, how that has shaped her view of the profession, the issues and challenges she believes face planners in the future, and more.
---
Episode 6
Eugenie Birch, FAICP
Courtney interviews Eugenie Birch, FAICP, in a special World Town Planning Day edition of the People Behind the Plans podcast series. This episode explores the UN's Sustainable Development Goals and New Urban Agenda. Birch is the Lawrence C. Nussdorf Chair of Urban Research and Education at the University of Pennsylvania and serves as president of General Assembly of Partners (GAP), the engagement platform for the implementation of the UN's New Urban Agenda and associated global agreements.
---
Episode 5
Lynn Ross, AICP
In this episode, Courtney talks with Lynn Ross, AICP, Founder of Spirit for Change Consulting. Lynn discusses how she discovered the field of urban planning, equity in the planning profession, her work with the U.S. Department of Housing and Urban Development and the Knight Foundation, and much more.
---
Episode 4
Bev Wilson, AICP
In this episode, Courtney talks with Bev Wilson, associate professor at the University of Illinois, Urbana-Champaign, Department of Urban and Regional Planning. Their wide-ranging conversation includes consideration of new frameworks for civic technology, and they touch on ways planners can think about extending the scope of tech tools.
---
Episode 3
Scott Page
In this episode, Courtney talks with Scott Page, founder of Interface Studio in Philadelphia, a leader in developing unique and innovative urban design ideas. The pair discusses who is driving the changes that are shaping cities, the influences of partnership, "unintended consequences," and the inspiration that comes from the conversation around public works.
---
Episode 2
David Fields, AICP
In this episode, Courtney chats with David Fields, AICP, who shares stories on connecting with place in his 20 years of national and international experience focusing on transportation planning. David and Courtney discuss community engagement and share tips on how to keep planning conversations with citizens on point.
---
Episode 1
Jamie Simone, AICP
In this episode, Courtney talks with Jamie Simone, AICP, on her role with the plan for the 606, an innovative public space and alternative transportation corridor in Chicago.