Planning Assistance Team
Mandeville, Louisiana
Following Hurricane Katrina, APA made contact with various communities affected by the storm. The City of Mandeville, Louisiana, responded and participated in the Planning Assistance Team efforts.
Mandeville is located on the north shore of Lake Ponchartrain across from New Orleans. Storm surge from the lake along with wind and water damage from Hurricane Katrina impacted the city. Amid the city's recovery efforts, the volunteer team of planners helped the city refine their comprehensive plan.  
Old Mandeville Redevelopment Strategy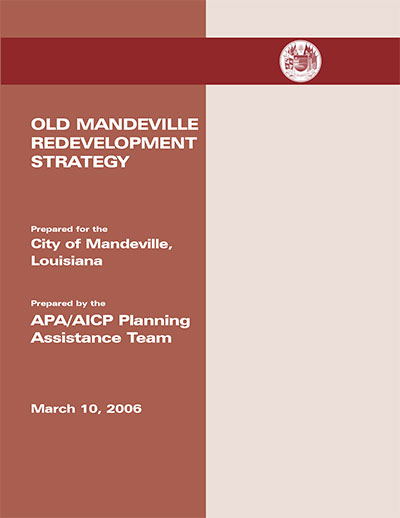 COMMUNITY PLANNING ASSISTANCE TEAM Report
The Old Mandeville Redevelopment Strategy is intended as an implementation mechanism, leading to refinements in the city's comprehensive plan, comprehensive land use regulation ordinance, and strategic planning initiatives. Because the city was in the process of updating its comprehensive plan, the Planning Assistance Team process and document was particularly timely.
Meet the Team
Roger D. Blevins, AICP, San Antonio, Texas; Mary Anne Bowie, AICP, Sarasota, Florida; Bradley Johnson, AICP, Indianapolis, Indiana; Karen A. Hundt, AICP, Chattanooga, Tennessee; and Tara B. Paxton, AICP, Township of Brick, New Jersey.