Thank you to the following APA Ambassadors who participated in the Ambassador Pilot Program.  They volunteering their time, experience, and talents to advance the public understanding of planning and promote the planning profession. And what fun they had doing it!
Check out what these APA members did over the past year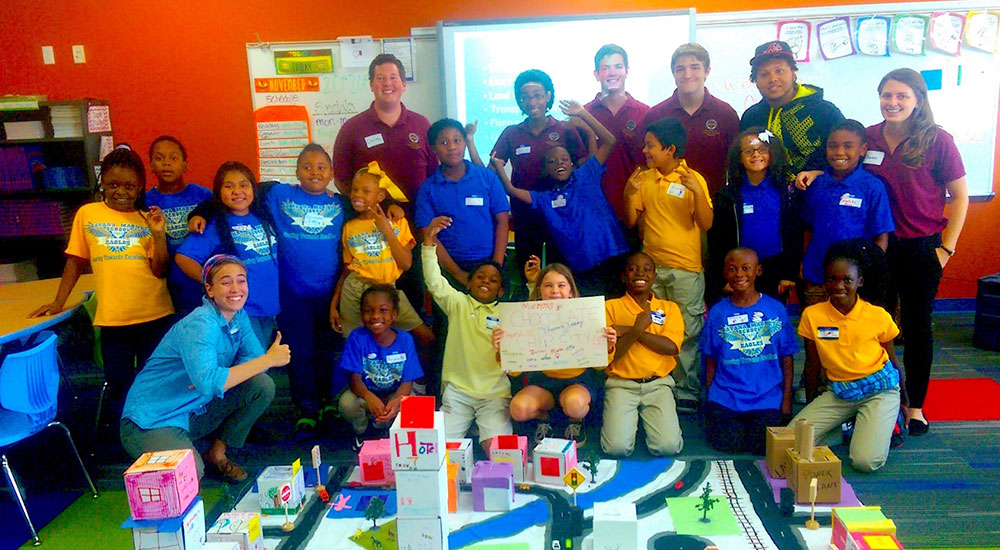 Ambassadors
Alaska
Laurie Cummings, AICP CTP, Anchorage
Anthony Grande, Unalaska
John "Peyton" Snead, AICP, Anchorage
California
Juan Carrillo, Coachella
Gabriel Elliott, Salinas
Jesse Kleist, San Diego
Hannah Kornfeld, San Luis Obispo
Nile Ledbetter, San Francisco
Lucina Navarro, Berkeley
Miguel Vazquez, AICP, Riverside
Keith Woodcock, AICP CEP, Sanger
Shellie Zias-Roe, AICP, Redlands
Connecticut
Fitzgerald & Halliday, Inc. Team, Hartford
APA Members:
Jill Barrett
Stephanie Dyer-Carroll, AICP
Rory Fitzgerald
Ruth Fitzgerald, AICP
Francisco Gomes, AICP, ASLA
Carol S.F. Gould, AICP
Shawna Kitzman, AICP (Team Leader)
Marcy Miller, AICP
Laurel J. Stegina, AICP
Other team members include:
Shawn Callaghan, PSS
Michael Coulom
Daniel A. Hageman, PSS, NHCWS
Michael L. Morehouse, PE
Sandy Nafis
Kate Skaff
Paul M. Stanton
Delaware
Sean O'Neill, AICP, Newark
Florida
Shundreka Givan, AICP, Orlando
Debbie Love, AICP, Fort Lauderdale
Florida State University Team, Tallahassee
APA Members:
Mavrick Fitzgerald
Hannah King
Sophee Payne
Yes Segura
Michael Sherman
Sarah Vitale (Team Leader)
Alexandria Washington
Other team members:
Melanie Marques
Michael Schilling
Illinois
Kimberly Porter, AICP, Chicago
Indiana
Kathryn Wertz, AICP, Indianapolis
Iowa
Leanne Lawrie Harter, AICP, Nevada
Michigan
Bridget Isquierdo Smith, AICP, Saginaw
Missouri
Raymond Lai, AICP, University City
Martin Rivarola, AICP, Kansas City
New Mexico
Srijana Basnyat, AICP, Las Cruces
New York
Scott Doyle, AICP, Ithaca
Kate Selden, Brooklyn
Jamil Sheikh, AICP, New York
Fitzgerald & Halliday, Inc. Team, New York
APA Members:
Michael Ahillen, AICP
Leslie Black
Mary Miltimore, AICP (Team Leader)
Ryan Walsh, AICP, PP, LEED Green Associate
Other team members:
Arnold Bloch
Maura Fitzpatrick
Jessica Ortiz
Melissa Pineda
Crystal Rugel
Pennsylvania
Akshali Gandhi, Pittsburgh
Oforiwaa Pee, Philadelphia
Samuel Thrush, Chambersburg
South Carolina
Saila Milja-Smyly, AICP, Mount Pleasant
Texas
Emily Tedford, College Station
Diana Wilson, AICP, Conroe
Utah
Meagan Booth, Salt Lake City
Washington
Stephen Butler, FAICP, Seattle
Dee Caputo, AICP, Olympia
Darryl Eastin, AICP, Seattle
Interested in Being an APA Ambassador?  
You must be an APA member and commit to conducting and documenting at least two activities during the Ambassador year, which runs each calendar year, January thru December.  AICP members can now earn up to 8 CM credits for their pro-bono service as an Ambassador.
Ambassadors may conduct the activities, either as individuals or as a team.  Ambassadors may chose the venue or organization that works best for them.  Here are a few examples to consider:
Schools (e.g. elementary thru high school, universities, community colleges, etc.)
Community Based Organizations (e.g. Girls' and Boys' Club, etc.)
Neighborhood Leadership Academies
Community Meetings
Career Fairs
In conducting these activities we hope Ambassadors can reach future planners with diverse racial, ethnic and cultural backgrounds.
Ambassador Resources
We will provide supporting resources, like activity ideas, power points, handouts, evaluation and survey forms, etc.   We are currently collecting more examples from last year's volunteers and will post more information soon.
Questions?
Email diversity@planning.org if you have any questions.