Regulating Short-Term Residential Rentals
Essential Info Packet 37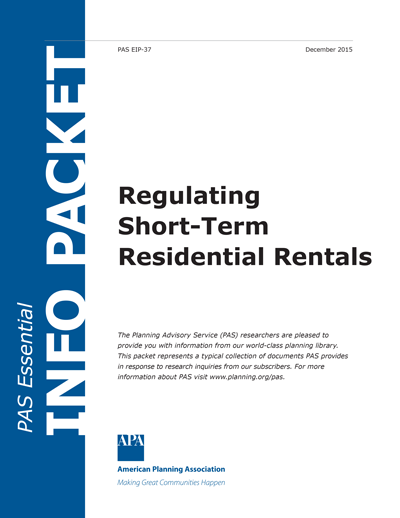 APA member & PAS subscriber
$0.00
---
Does your community regulate short-term residential rentals and homestays? The meteoric rise in popularity of online rental platforms such as Airbnb has made this a hot topic.
Though beachfront communities and resort towns have long dealt with vacation rentals, other cities are now wondering if they need to address short-term rentals in their zoning codes and licensing provisions. Those that have are taking a number of different approaches, and many have already amended ordinances adopted in the last few years.
This Essential Info Packet provides a solid background on the issues surrounding this use with a selection of articles and information about short-term residential rentals, as well as staff reports from communities that have already taken this topic on. Finally, it offers an extensive collection of sample short-term residential rental zoning and licensing ordinances from communities across the country.
Whether you want to fine-tune an existing ordinance or explore the options for regulating short-term rentals in your community, this is the EIP for you.
---
Product Details
Date Published
Dec. 1, 2015
Publisher
APA Planning Advisory Service