A Three-Part Primer on Net Neutrality
In December, the Federal Communications Commission repealed its 2015 classification of broadband as a common carrier, ending network neutrality, which had forced internet providers to treat all data — and users and websites — equally. Last month, 30 senators pledged to reinstate net neutrality. While the FCC works toward settling on a ruling, check out these resources to begin to answer some of the big questions facing planners: What, exactly, is net neutrality? What does it mean for broadband in our communities? And how will it affect the existing digital divide?
Vox card stacks are constantly updated libraries providing the stories behind the biggest — and most complicated — news events. The entry on net neutrality (tinyurl.com/y8xjqdt8) delivers the main points in 10 thorough, digestible flashcards.
Mapbox released an interactive map (mapbox.com/labs/net-neutrality) of the U.S. that tracks the service of every internet provider. The search bar allows users to drill down by address using data from 11 million census blocks, confirming what Planning's October 2017 article "A Need for Speed" suggests: Even with net neutrality intact, millions of Americans do not have access to high-speed broadband.
Connect Americans Now, an advocacy coalition cofounded by Microsoft and a group of nonprofits, offers fact sheets, maps, and white papers outlining the impact the digital divide has on agriculture, Native Americans, small businesses, health care, and education. Download them at connectamericansnow.com/resources. The organization also offers a potential solution in the form of TV white spaces spectrum, which could bring better connectivity to rural areas.
Planners Playlist
There Goes the Neighborhood is a two-season investigation of cities changing too fast for the people that live there. The first season covers gentrification and race relations in Brooklyn. For season two, host Kai Wright switches coasts to look at housing in one of the most expensive states' most expensive cities: Los Angeles.
---
99% Invisible deals in the design of our everyday world, taking a closer look at the things we don't often see — or hear about: the United Kingdom's public water fountains, California's necropolis, Baltimore's subliminal signs of segregation. The show's host, Roman Mars, really knows his beat: He boasts the most-watched TED Talk on design to date (tinyurl.com/yajovvaa). The website offers supplemental materials for every episode, plus extra articles on the quirkiest news in infrastructure, technology, and architecture.
---
The Urbanist scours the globe for the newest, best, techsavviest solutions to city building and living. In three- to 30-minute segments, host Andrew Tuck covers everything from swimming pools to skyscrapers, urban gardens to gun violence. The show's parent company, British media conglomerate and 24-hour radio station Monocle, is also home to the podcast Section D, which delivers the latest on all kinds of design.
---
What have you been listening to?
Send your podcast picks to Lindsay R. Nieman, Planning's assistant editor, at lnieman@planning.org.
Transit Trends Visualized
A new project from TransitCenter examines the nation-wide drop in transit use at the metropolitan level. The interactive map allows users to explore transit and demographic data and its relationship to ridership in the 55 biggest metro areas in the U.S. from 2006 to 2015. It's all part of TransitCenter's ongoing research into the ways planners can help turn ridership declines around. Explore at transitcenter.org/initiatives/ridership.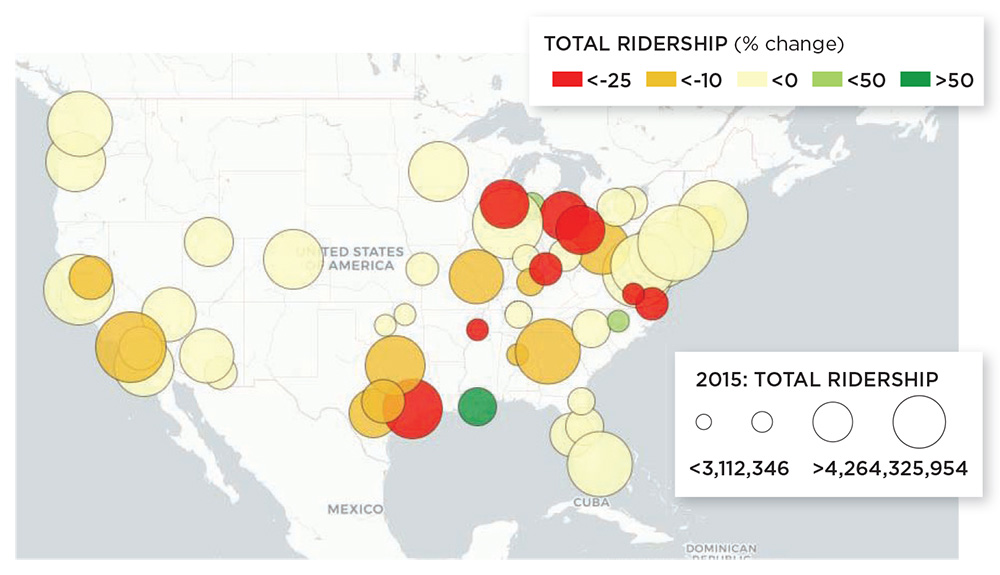 Film: The Iron Triangle
An independent documentary called The Iron Triangle premiered at Manhattan's DOCNYC film festival late last year. Directed by Prudence Katze and William Lehman — and with the help of a bare-bones group of filmmakers, city planners, and activists — this 83-minute, Spanish/English film tells the story of the bustling industrial community of Willets Point, Queens, also known as the Iron Triangle.
Made with the support of the Graham Foundation for Advanced Studies in the Fine Arts, the film follows a group of immigrant business owners as they band together to fight a development plan that would bulldoze their slice of the American Dream. Their story launches an investigation into New York City's history as the controversial front line of deindustrialization, urban renewal, and gentrification.
Watch the trailer at youtu.be/mtdHzRzb2BI, and find screening information at theirontrianglemovie.com.
—Mary R. Lupa, AICP
Lupa is a Chicago-based supervising planner for the engineering firm WSP USA. A longtime friend of city neighborhoods, she follows documentaries to deepen her understanding of our shared civic duty.
---
Et Cetera is a curated collection of planning odds and ends. Please send information to Lindsay R. Nieman, Planning's assistant editor, at lnieman@planning.org.