2021 Legislative Priority — Housing
The coronavirus pandemic and economic downturn have placed a housing crisis on top of an existing housing crisis. As rent relief, unemployment, and eviction moratoria come to an end, communities already feeling the housing crunch are facing increased housing and homelessness challenges.
Affordable, accessible housing is essential to building wealth and increasing economic mobility. Planning and code reforms, combined with smart investments in housing and transportation, will help bridge the racial wealth gap and increase economic opportunity for all.
Opportunities for Action
Communities cannot wait for the heightened housing crisis to be addressed. Specifically, we call on Congress to:
Invest in housing affordability. Federal funding for critical housing needs should be a component of recovery efforts, stimulus legislation, and regular annual appropriations. Full funding for proven programs should be bolstered with recovery assistance and long-term investments.
Incorporate housing into transportation programs. Transportation reauthorization provides a platform for improving the integration of housing into federal infrastructure investments. New legislation should increase planning for transit oriented development, encourage coordination, and prioritize access to housing and economic opportunity.
Create incentives for code and zoning reform. States and communities across the country are taking a fresh look at development codes and zoning with the goal of ensuring local rules support housing affordability, availability, and safety. Federal programs can help by supporting analysis, offering technical assistance, and establishing incentives for action.
Restore Affirmatively Furthering Fair Housing. Fair housing is a cornerstone of addressing social equity and racial injustice. AFFH rules at HUD help communities understand obstacles to fair housing and patterns of housing opportunity. Recent efforts to undermine AFFH should be rolled back with HUD taking a fresh look at how best to implement this mandate from the Fair Housing Act.
Planning and Housing
Planning offers many tools and approaches to address the housing crisis.
The groundbreaking Minneapolis 2040 comprehensive plan's analysis and presentation of current housing supply, affordability, and housing needs break new ground for Minneapolis, and indeed for any American city, in that the city has chosen to tackle head on the effects of zoning, land use policy, and public investment on economic and racial equality. (Case Study)
The Inclusionary Zoning Implementation Amendment Act went into effect in 2006, and regulations implementing it took effect in 2009. The IZ program advanced the city's affordability initiatives by requiring affordable units and market-rate units within the same development to ensure they would be dispersed throughout the District, including in high-income neighborhoods. (Case Study)
Housing Resources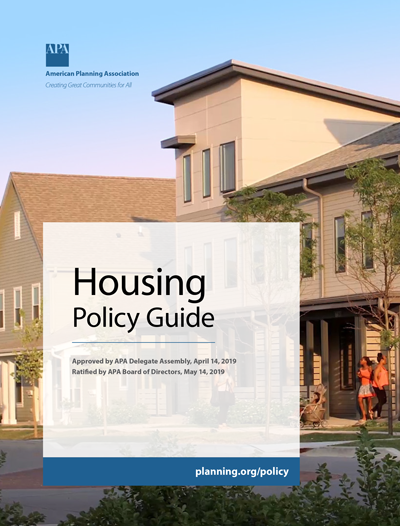 APA's Housing Policy Guide identifies policy solutions for planners and local, state, and federal elected officials that address dire housing challenges plaguing rapid and slow growth communities nationwide — including accessibility, affordability, and availability. The guide addresses trends — like public and private finance, resiliency, and zoning — and the ways in which APA members and planners can use the guide as a tool to effect change not only in their communities but also at the state and federal levels.
Housing Advocacy in Action
The Housing Supply and Affordability Act: Enabling Planners as Leaders
APA strongly supports and worked closely with congressional offices to shape this bipartisan legislation that would create a new tool inside the Department of Housing and Urban Development (HUD) to provide grant programs to help communities create housing action plans, update codes, and modernize regulatory structures that impact housing production and supply.
The YIMBY Act encourages communities to eliminate discriminatory land use policies and remove barriers that prevent the production of needed housing in communities throughout the United States. It gives the federal government, through the Department of Housing and Urban Development, a constructive role to play in solving the housing shortage and affordability crisis. (Policy Letter)
The provisions of Section 40103, the Unlocking Possibilities Program, represent an innovative and bipartisan approach to addressing the nation's housing affordability crisis — a challenge facing regions, states and communities as rising home prices continue to thwart homeownership and affordable rent for working and low-income families nationwide. APA joins other housing advocates to urge retention of this provision in the FY 2020 budget reconciliation package. (Policy Letter)
"The Build More Housing Near Transit Act will spur better coordination of housing and transportation and promote public transit projects that also increase mobility options and access to housing and economic opportunity. With the passage of historic and much needed federal infrastructure legislation, this bill will ensure that these new investments provide the broadest and highest benefit. The American Planning Association is proud to support this legislation as an important tool for the recovery and reinvention of our communities,"
— Leo Asuncion, AICP, President of the American Planning Association (APA).
A bipartisan bill that would ensure infrastructure investment provides the broadest and highest benefit by helping communities better align land use, transit, housing, and jobs with effective planning was recently introduced in the US Senate. APA has endorsed this bill and its House companion (H.R. 2483). (Policy Letter).