Hotel and Travel Information
For Water and Planning Connect attendees, downtown Kansas City Missouri, is the place to be.
Kansas City has always been a hub of trade and transit. Surveyed by Lewis and Clark on their return from Oregon, the city quickly became the first stop for settlers on their way to the western territories.
If you find yourself with a spare moment, take a short walk west to historic Quality Hill, one of the oldest neighborhoods in Kansas City, which overlooks the confluence of the Kansas and Missouri rivers.
Conference Hotel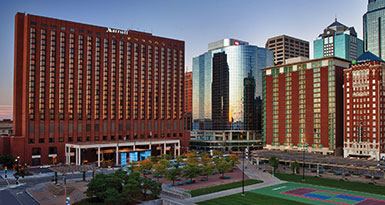 Kansas City Marriott Downtown
Rooms at discounted rates are limited and available on a first-come, first-served basis, so book yours early!
$159 single/double occupancy
18.1 percent state and local taxes
$1.50 per room night mandatory City Development Fee
Getting to Kansas City
The Kansas City Marriott Downtown is located at 200 West 12th Street, directly across from the Barney Allis Plaza and Kansas City Convention Center. Detailed directions are available on the Marriott website.
By Plane
Kansas City is served by Kansas City International Airport (KCI). There are several options available for getting from the airport to downtown Kansas City including taxis, shuttles, mass transit, Uber, Lyft, and more.
By Car
Interstate Highways 35, 70, 29, and 670 go through or around Kansas City. The city is also readily accessible by Missouri state routes 24 and 71.
Click "Directions," then enter your starting location to get customized directions for your trip.
By Train
Kansas City is served by Amtrak. The Southwest Chief runs east from Los Angeles and west from Chicago. The Missouri River Runner runs south from St. Louis.
Enjoy the Henry Wollman Bloch Fountain when you arrive at Union Station
Mass Transit
The 229 Boardwalk-KCI bus runs between downtown Kansas City and the airport from early morning through late evening, seven days a week. Explore Kansas City and the surrounding area via bus, streetcar, or bikeshare provided by Kansas City Regional Transit.