Whether you know Kansas City as the City of Fountains, the Paris of the Plains, or the unchallenged capital of Kansas City–style barbecue* — it is a lively, engaging city with a history closely tied to the rivers that run through it.
*the capital of all American barbecue is in contention.
---
Experience the Host City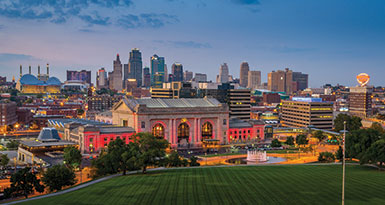 a river runs through it
Bisected by the Missouri and Kansas rivers, Kansas City is a perfect place to discuss water and planning.
Great Places
Kansas City is home to two APA-designated Great Places in America — the Crossroads Arts District and Ward Parkway.
The Crossroads Arts District is a vibrant hub of creativity and entrepreneurship and home to hundreds of art-focused entities and tech startups that touch many disciplines.
Ward Parkway is Kansas City's eminent thoroughfare, a right-of-way that begins at Country Club Plaza and transitions to a grand boulevard with manicured lawns and gardens as it follows sweeping curves southward.
Fountains
Kansas City's history is reflected in a century of fountain development. Initially fountains were established to slake the thirst of people and animals and expanded later to beautify, memorialize, and celebrate.
Refresh yourself with visits to some of the 200+ fountains in the Kansas City metro area. Go to www.kcfountains.org to download or request a free walking/driving brochure.
Food
Barbecue in Kansas City is more than a menu item or a method of preparation. It's an institution rich with history and a culinary tradition that has shaped the city's dining landscape since the early 1900s. For decades, visitors from across the globe have traveled there, drawn by its smoky aroma and acclaimed cuisine.
Jazz
It's been said that "while New Orleans was the birthplace of jazz, America's music grew up in Kansas City." The Kansas City style of jazz can still be heard nightly at clubs across the metro area.