Aligning Consent Orders and Community Needs
Sunday, April 22, 2018 from 10:45 a.m. - noon CDT
Add to My Log
Now Available from APA Learn
---
This course is now offered on the APA Learn educational platform.
Open in APA Learn Browse APA Learn catalog
WHAT YOU'LL LEARN
Emerging trends in stormwater compliance for developed urban areas, including green stormwater infrastructure (GSI) approaches
Challenges and opportunities that arise from stormwater-management plans, including plan affordability; community engagement; and project ownership, design, and funding
How to leverage incentives and engagement strategies to encourage citizens and organizations to become involved in planning and designing GSI projects customized to meet community needs
MORE SESSION DETAILS
At a time when public spending and regulation are under the microscope, this session will provide participants with the opportunity to consider how cities can meet environmental mandates while addressing competing community priorities. Concerns about the cost of environmental compliance and whether low-income communities benefit from the costs incurred are very real considerations for cities facing consent orders, or other environmental mandates. The EPA estimates that at least $68 billion is needed nationally for CSO correction and stormwater management over the next 25 years. Philadelphia and Detroit, two major cities grappling with this expensive challenge, are attempting to balance the need for greater investments in stormwater infrastructure with affordability for ratepayers and residents. This session will showcase green stormwater infrastructure (GSI) practices and incentive programs that contribute to environmental compliance, enhance neighborhood spaces, and help small property owners reduce their bills. GSI presents an opportunity to create amenities and value from stormwater management. Case studies from Detroit and Philadelphia will demonstrate how planners in different sectors can support diverse property owners to implement GSI projects that are mutually beneficial to individuals and the broader community. The session will conclude with a moderated discussion that invites peer-to-peer sharing and thought-provoking conversation.
Session Speakers

Avery Livengood, AICP
Organizer and Speaker
City of Philadelphia
Berkeley, CA
Ceara O'Leary
Speaker
Detroit Collaborative Design Center
Detroit, MI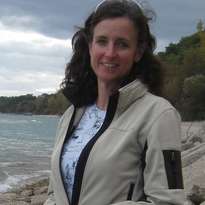 Karen L. Sands, AICP
Speaker
Milwaukee, WI
Topics: Equity, Diversity, and Inclusion, Health, Infrastructure, Natural Resources and Environment
Activity ID: NPC188012