In October's cover story, planners are on the front lines as communities fight against environmental injustice in communities of color. Learn key takeaways on effectively conveying messages to non-planning audiences. Planning also shares four trends in virtual reality as it redefines the planning and design process.
Featured Articles
Adina Solomon examines the role of planners and land-use policies in redressing systemic environmental injustice in communities of color.
A collaborative workspace spearheaded by a nearby university is breathing new life into a Massachusetts legacy city. Story by Michael DiPasquale.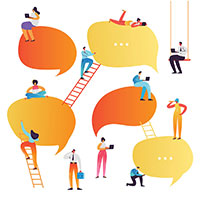 In this Business of Planning installment, planner Linda McIntyre offers some advice on communicating planning to nonplanners.
Four trends in immersive technologies are redefining the planning and design process, Becky Zimmermann and Anna Dillé report.
PLUS:
Case Study: The Multiple Scales of Using VR.
News & Departments
A regular column by Chief Executive Officer Joel Albizo.
2019 Great Places in America, National Community Planning Month.
Mixed reactions to August/September.
Oregon upzoning, big tech, clean energy.
Planning and tribal sovereignty.
A bimonthly department for planning commissioners. Edited by Kimberley Jacques.
Reid Ewing highlights his favorite scenario planning tool.
Fair housing, hidden hazards, military bases.
Dark Money, innovation districts, climate change.
Planning, self-care, and leadership.
Cover: Photo by Youngrae Kim.