Reflection Reset: Pathways to Effective Practice
The world is changing and so is planning. Professional effectiveness in uncertain times benefits from a reflection reset because relying on past practices is insufficient. Uncertainty about environmental, technological, social, and economic phenomena abounds. Today's planning agenda includes COVID-19 recovery, anti-racist initiatives, assistance for unhoused people, deregulation of infill housing, a broadened approach to infrastructure, and aggressive climate change action.
Reflection is essential in these times
Previous posts, Using Reflection to Navigate Idealism and Realism and Reflection for Radicals argue for the importance of reflection in developing effective strategies for change.
It is one thing to agree with the idea of reflection but it is another thing to bring it into day-to-day practice. If reflection is conceived of sitting alone on the top of the mountain, it is unrealistic given the pressures of practice. We cannot stop the world to think. We don't work alone. And importantly, reflection can be unsettling if we realize error or a need to make a change.
The best way to start a reflection practice is to find an approach that fits your preferences, ways of thinking, and time availability. There are many ways to do this, such as private journaling, having dialogue with a mentor, attending a workshop, or initiating a discussion group. On October 29, 2021, APA is featuring a live workshop on reflection techniques like these to support ethical decision-making in turbulent times; Reflection Reset: Professional Effectiveness in Turbulent Times. CM | 1.5 | Ethics
A core subject of reflection is the daily practical judgments that we make about methods, values served, and recommendations. For example, how does one advance anti-racist reforms if elected officials do not share those views? There are many choices of strategy in such a situation. Examining our practices, assumptions, and values can help navigate the terrain between personal commitments, community desires, the views of those lacking agency, the workplace setting, and decision-makers.
Reflection-on-action considers past practical judgments. This can be done alone or in group activities that reveal the different lenses that planners use in making practical judgments. Reflection-on-action builds a set of "lessons learned" about why a particular approach did or did not work and leads to innovation and practice refinement.
Reflection-in-action is deliberating about practical judgments on the fly. It slows down the decision about what to do next. Opportunities for reflection-in-action occur throughout planning episodes, such as when writing a scope of work, leading a meeting, or responding to an elected official. Reflection-in-action helps avoid jumping to a conclusion or applying a past interpretation without thinking it through. It offers space for intuition. In fact, it recognizes that elements of knowing are found in the doing.
A reflection reset moves planners from rote processes toward innovation and effectiveness. We need it now more than ever. Consider making a part of your practice, on your own, or by taking part in APA activities.
Read previous installments of this blog series, "A Guide for the Idealist." This blog series is amplified in Richard Willson's books, Reflective Planning Practice: Theory, Cases and Methods, and A Guide for the Idealist: How to Launch and Navigate Your Planning Career. The books include frameworks, case studies, reflective methods, advice, and personal anecdotes. They are available now at Routledge, Amazon, and most retailers.
Top image: The College of Environmental Design at Cal Poly Pomona's atrium, 2021. Photo by Richard Willson, FAICP.
---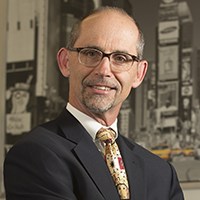 About the Author
Richard Willson, FAICP
Richard Willson, FAICP, is a professor in the Department of Urban and Regional Planning at Cal Poly Pomona. He has also served as department chair, interim dean, and independent planning consultant. Willson's research addresses planning practice and parking policy. His books, Reflective Planning Practice (2021) and A Guide for the Idealist: How to Launch and Navigate Your Planning Career (2018), amplify the themes in this blog series. Willson is also the author of Parking Reform Made Easy (2013) and Parking Management for Smart Growth (2015). Willson holds a PhD in urban planning from the University of California, Los Angeles, a Master of Planning from the University of Southern California, and a Bachelor of Environmental Studies from the University of Waterloo.
---
October 18, 2021
By Richard Willson, FAICP
---
---