Six times a year APA's Planning Advisory Service publishes PAS Memo, an online newsletter covering a wide range of topics relevant to planning practitioners.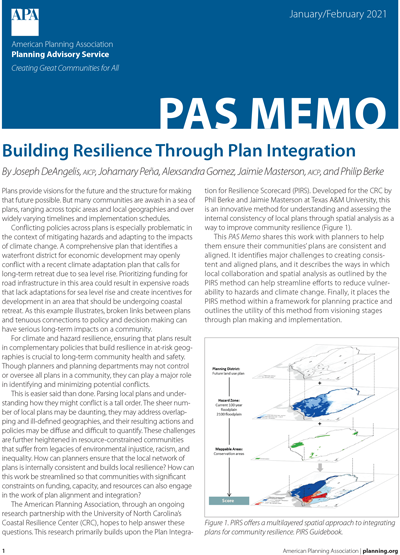 Building Resilience Through Plan Integration
January/February 2021
A consistent policy framework requires plans to align across a wide range of scales and topics. This PAS Memo explains how planners can use the Plan Integration for Resilience Scorecard (PIRS) method to ensure local plans are working together to create more resilient communities.
Members and Subscribers
About PAS Memo
PAS Memo delivers. It's the best shop talk around, written by practicing planners and experts in the field eager to share their experiences. Each issue has illuminating case studies with links to online resources for planners who want to dig deeper. APA Members and PAS subscribers have access to all issues.
Let's Hear from You
Feedback on PAS Memo is welcome. Comment on the issues or suggest topics for upcoming editions.
Authors Wanted
Are you a planner or authority in your field with expertise you'd like to share?