Uncovering JAPA
Lessons for American Zoning From Australia and Canada
As cities across the United States struggle to address housing inequities and affordability shortages, planners and scholars have often discussed the limitations of exclusionary zoning — calling for reform that acknowledges the racist and classist motivations of former zoning laws while also opening opportunities for housing diversity. Yet, how to achieve such reforms and anticipate unforeseen challenges may remain unclear.
In "A Case of (Decreasing) American Exceptionalism: Single-Family Zoning in the United States, Australia, and Canada" (Journal of the American Planning Association, Vol. 88, No. 3), Andrew H. Whittemore and William Curran-Groome present a compelling comparative study to guide such discussions on zoning reform.
Whittemore and Curran-Groome studied single-family zoning (SFZ) across municipalities in three countries: the United States, Australia, and Canada. They urge American planners to learn from these two international contexts given the shared, divergent, and (now) reconverging histories among all three countries. Their article provides essential resources for a historical understanding of single-family zoning's use and illustrated case studies amongst cities in the three countries.
Starting in the 1980s other countries, including Australia and Canada, acknowledged that single-family zoning often conflicted with the sustainability goals of denser, transit-oriented communities. However, the United States chose to uphold single-family zoning despite its limitations. As Whittemore and Curran-Groome point out, SFZ allowed communities to separate housing types and limit residential land to large, expensive plots (favoring wealthy, white residents in the process).
This critical historical framing identifies the shortcomings of single-family zoning and explicitly connects planning with the consequences of racist practices, which the profession must now address. Given the more racially homogenous populations of Australia and Canada at the time, the two countries become an example of what might have been if America had made planning decisions based on environmental goals versus exclusionary motivations.
This historical comparison is complemented by present-day zoning illustrations that compare 30 of the most populated municipalities in the United States, Australia, and Canada. As present-day housing shortages and environmental concerns readjust American planning to reconsider single-family zoning, illustrations show how U.S. planning practices are now reconverging with Australia and Canada — nearly 50 years since the documented divergence.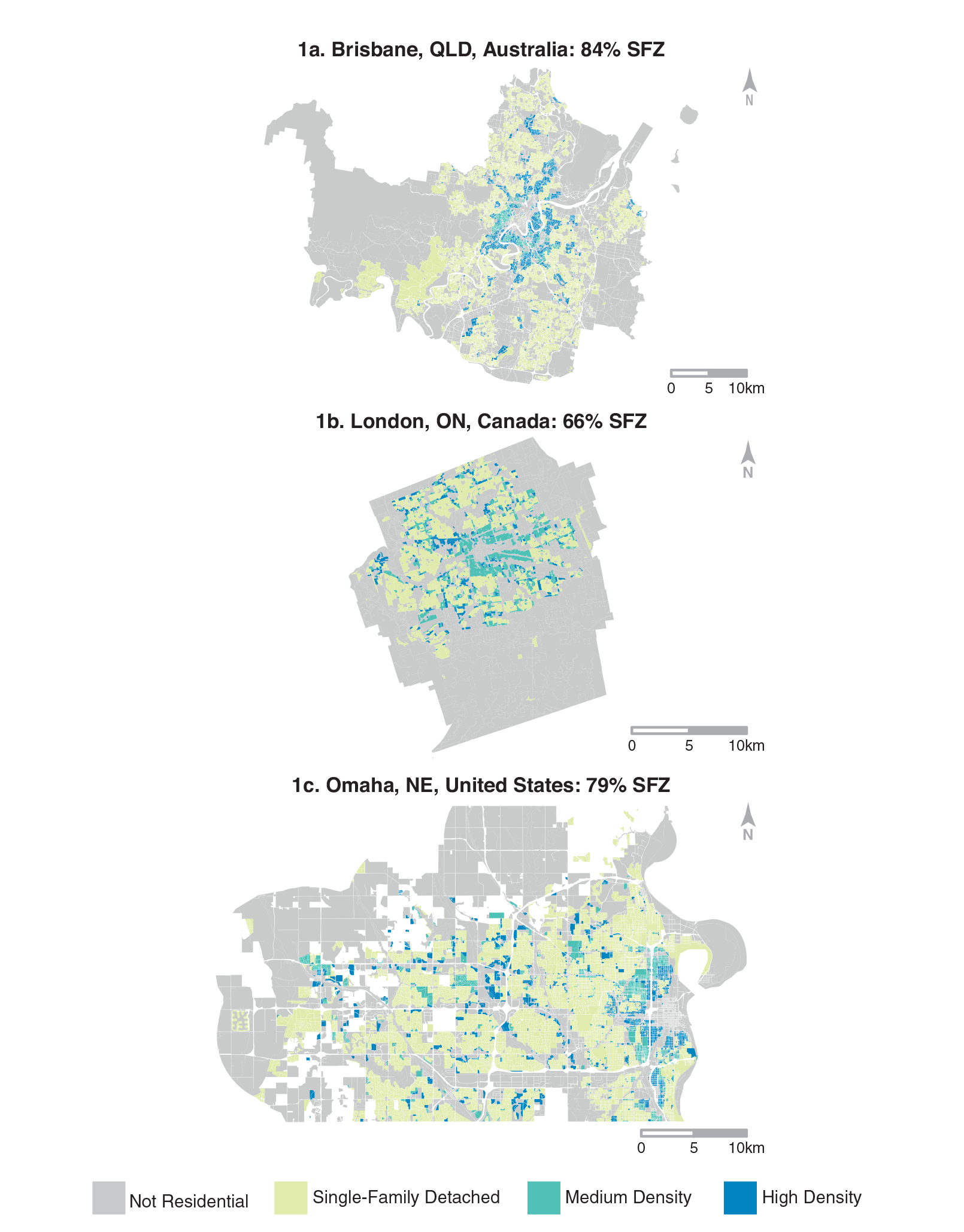 Key takeaways from the Australian and Canadian case studies show that denser neighborhoods in these formerly SFZ areas decreased infrastructure costs associated with sprawl, reducing consumption per land area and promoting more sustainable habitation. Yet, Whittemore and Curran-Groome document the unforeseen consequences of SFZ reform. For example, a reformed SFZ strained existing infrastructure systems, even if the costs to expand new infrastructures decreased. In addition, promoting transit-oriented development made housing locations near transit stations more expensive.
As future planning decisions must take accountability for past histories, we cannot consider zoning reform in isolation. This article is an important reminder that housing inequities are not just zoning issues but instead require integrated approaches — such as affordable housing initiatives and infrastructural renovations to anticipate the potential challenges that arise when planners reduce SFZ.
Planning-led zoning reform is the key to tackling many of the nation's greatest challenges — especially the housing supply crisis. See how APA and planners are advocating and implementing zoning reform locally, regionally, and nationally.
The Journal of the American Planning Association is the quarterly journal of record for the planning profession. For full access to the JAPA archive, APA members may purchase a discounted digital subscription for $36/year.
Top image: iStock/Getty Images Plus - zetter
---
About the author
Mike Lidwin is a master in urban planning student at Harvard University's Graduate School of Design.
---
February 9, 2023
By Mike Lidwin
---
---