Fayetteville Street: Raleigh, North Carolina
Planning Excellence
It's just under a half-mile long, but Fayetteville Street is the central historical and cultural heart of downtown Raleigh, North Carolina. Dating back to the city's first plan of 1792, the William Christmas Plan, Fayetteville Street has served a crucial role in Raleigh's growth and economic prosperity. As part of a holistic planning approach to downtown improvements, Fayetteville Street was converted from a closed-off and neglected street to an open one distinguished with special streetscape elements.
The vibrant life along Fayetteville Street is the product of extensive collaboration between city officials, planners, designers, and community stakeholders. In 1977, Fayetteville Street was closed to cars to accommodate plans to transform the space into a pedestrian mall, a growing nationwide trend at the time. The mall provided ample open space, but resulted in a deserted corridor after hours. The underused space discouraged restaurants and businesses, and increased the sense of an empty and unsafe downtown. In 2003 the Raleigh Department of City Planning developed the Livable Streets Plan, which identified Fayetteville Street Renaissance as one of five initial actions to a create a livable and vibrant downtown.
After years of planning and construction, Fayetteville Street was reopened to cars in 2006, and has since become the center of downtown activity. The street design features the widest sidewalks in the downtown, ample seating, street trees, and colorfully painted stone street pavers at intersections. These features help make the street a safe and pleasant environment for a people walking and biking, connecting residents and visitors to nearby resources like open plazas, public parks, a public library, and a recently renovated transit station serving local and regional routes.
Following its conversion from a pedestrian mall to a ceremonial Main Street, the area in and around Fayetteville Street has received more than $2 billion in public and private investment, including the construction of Raleigh's tallest skyscraper. 
Defining Characteristics and Features
A nearby Amtrak train station encourages different forms of transportation.
Stree life is vibrant throughout the day and nighttime, not just during business hours.
A mix of businesses along the street includes restaurants, bars, art galleries, and retail.
Sir Walter Raleigh apartments, a senior housing complex in Raleigh's oldest surviving hotel building, provides low-income senior housing.
City Plaza at the terminus of Fayetteville Street hosts events such as the summertime Raleigh Downtown Farmers Market.
In 2008, Fayetteville Street was listed in the National Register of Historic Places. The historic facades of Fayetteville Street, which display architecture from the 1870s through the 1960s, are a fitting backdrop to celebrate local culture.
By the Numbers
In 2017, the planning department hosted a campaign of 100 meetings in 100 days to provide opportunities for the public to engage with a variety of city planning efforts. Many of these took place in different venues along Fayetteville Street.
More than 1,000 people attended meetings, workshops, and visioning sessions hosted by the Downtown Raleigh Plan.
Designated Area
West Morgan Street to West Lenoir Street.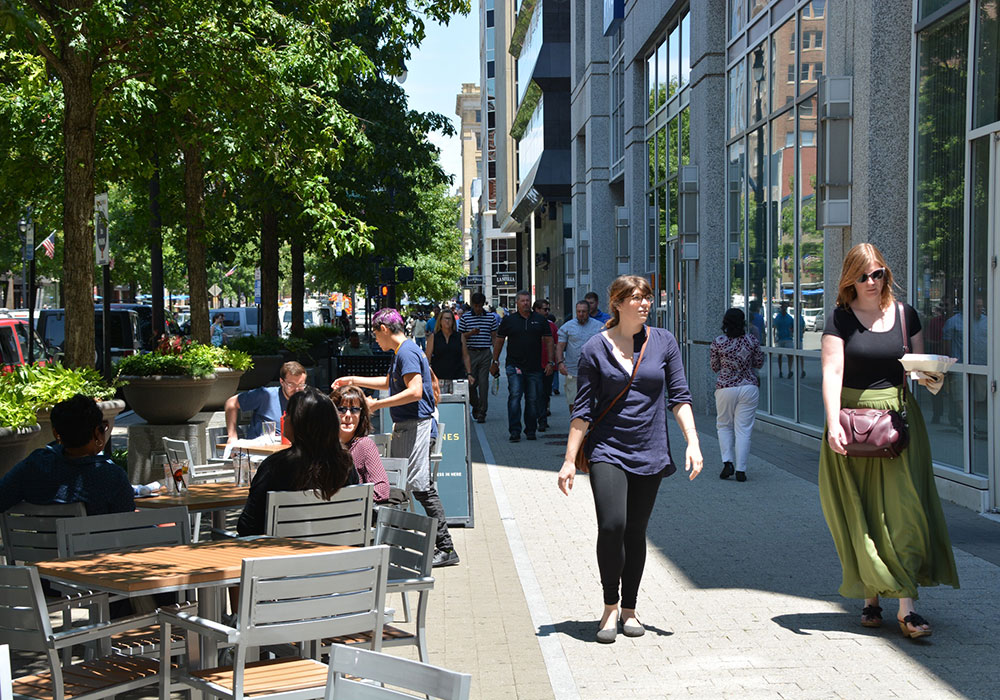 Learn More
2030 Comprehensive Plan (2009)
Raleigh's Streetscape Renewal, Part of an Integrated Effort to Transform Downtown