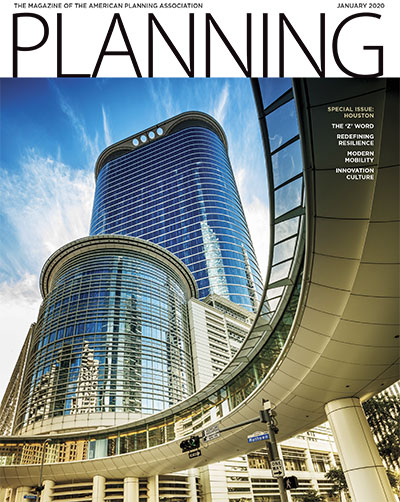 Special Issue on Houston
In April, APA will head to Houston for the 2020 National Planning Conference. This month, Planning magazine paves the way by spotlighting the city. Houston is famous for not having zoning, but that doesn't mean it doesn't have planning. After Hurricane Harvey, the city found that resilience takes more than simply recovering from disaster. And find out how car-centric Houston is shifting toward modern mobility.
Featured Articles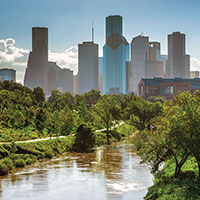 Houston is the host city for APA's 2020 National Planning Conference in April. Read about this diverse city at the crossroads in this issue of Planning.
Environmental lawyer and flood prevention expert Jim Blackburn weighs in on Houston's love-hate relationship with water.
There's a lot more to Houston than oil and gas. Deborah Lynn Blumberg rounds up the diverse industries and entrepreneurs propelling local economic growth.
Intersections
Wisconsin legislators are trying to solve a state housing crisis with help from a local planning director.
San Francisco just became the latest North American city to restrict private vehicles on a major thoroughfare.
Alvaro Huerta, PhD: "As planners ... we need to educate ourselves on the indispensable and interrelated relationship between the informal and formal economies."
Tools for the Trade
Bedbug infestations are on the rise — and cities aren't doing all that much about it.
Planners need to know the limitations and the constitutional controls of public design review.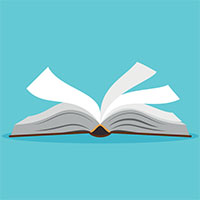 A new book on performance zoning, reviews of four additional books, and e-book suggestions.
Also in This Issue
APA Editor in Chief Meghan Stromberg: "We look forward to helping Planning readers navigate change — and plan for it."
Profiles of three contributors to this issue: John Reinhardt, AICP; Perla Trevizo; and Deborah Lynn Blumberg.
Houston's Discovery Green was a sea of parking lots until it was transformed into a lush park in 2008.

Cover: Pgiam: iStock/Getty Images Plus.