Housing
Expanding Equity and Affordability, One Lot at a Time
Even as the pandemic intensifies the housing crisis, community land trusts are creating sustainable opportunities for homeownership.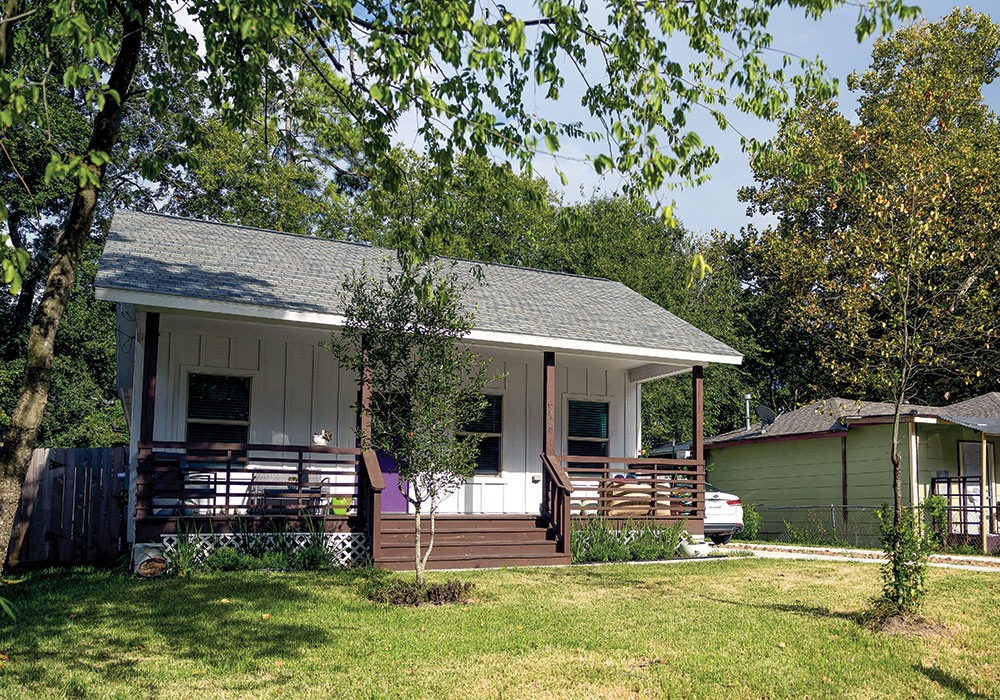 By Daniel C. Vock
At the start of the pandemic, Ashley Allen was worried she'd see fewer applications from potential home buyers. If people hadn't lost their jobs, they were worried about keeping them. Plus, shutdowns and social distancing made it harder to get the word out on the benefits of buying a home through a community land trust (CLT).
Allen is the executive director of the Houston Community Land Trust (HCLT); it buys the land while a resident buys the building on top of it, often making mortgage payments cheaper than rent, she says. But without being able to explain this as usual — door-to-door, from a table outside the grocery store, or during presentations at local libraries — Allen expected far fewer applications.
"But that's not what we saw," Allen says. "We are still getting an application a day." With interest rates low and people stuck in their homes, homeownership — historically one of the best ways to build generational wealth — can seem more attainable and attractive to more types of buyers, especially with HCLT's help. By August, the two-year-old organization had already closed on 23 homes, with four more under contract.
CLTs allow land governed by residents and community leaders to be set aside permanently for specific public uses. That model was already gaining popularity — CLTs dedicated to housing alone have gone from 2,000 sites across the U.S. to 12,000 in 30 years — but the tumult of 2020 could add more fuel to the trend.
During the pandemic, CLTs have provided help that has been otherwise hard to find. And after the police killing of George Floyd in Minneapolis prompted many calls to address racial disparities and inequities broadly, CLTs are offering concrete ways to funnel housing and other resources to long-neglected areas.
Combating displacement
HCLT came about after Houston officials grew frustrated with the city's more traditional programs for helping low-income families find affordable housing. The Houston Chronicle found that although the city spent $130 million for affordable housing programs over a decade, there was little to show for it due to sloppy record keeping, haphazard strategies, and poor administration.
The land trust started in 2018 with a big boost from Houston: The city's housing agency builds homes on land held by the Houston Land Bank, an intergovernmental agency, but when a buyer closes on the home through the arrangement, the title for the land is given to the community land trust.
These efforts began in the northwest neighborhood of Acres Homes, a predominantly Black neighborhood where Houston's current mayor, Sylvester Turner, grew up. Like many majority Black areas of the city, Acres Homes is experiencing rapid gentrification. HCLT focuses on serving these areas, where residents are most at risk of being displaced, says Allen.
"Our efforts were laser-focused on Acres Homes because we wanted people from Acres Homes to take advantage of the program," she says. "To say we'll just move them out to the suburbs, that's not good planning. That's not creating equity."
Engagement is vital to HCLT's success. Residents who could benefit most may not know they qualify for the program, Allen says. The trust works with residents to make sure they understand the terms and to help get their finances in order so they can qualify for a loan.
"People assume that if they build houses, people will come. That is not how that works," Allen says, "because most of the people in our target population don't even believe they can afford a home, especially not a brand-new three-bedroom, two-bath home."
Sustainable affordability
Julius Kimbrough, the executive director of the Crescent City Community Land Trust (CCCLT) in New Orleans, says his organization is also growing despite the pandemic. It has offered homes for sale in the Lower Ninth Ward, a predominantly Black area of the city, and helped support local businesses and mixed-use developments downtown. Their goal is to put affordable housing and commercial spaces in areas of significant economic development and opportunity. The organization was started in 2011, when "families that had lived [in New Orleans] for many generations [were] being priced out of the city, where institutional racism had already been practiced for multiple generations," CCCLT's website says.
The city saw a wave of investments in affordable housing after the devastation of Hurricane Katrina in 2005, but that stock isn't permanent. Affordable housing programs like the Low-Income Housing Tax Credit require developers to offer affordable housing for 15 or 30 years, after which time they can charge higher rents or sell the development.
Normally, that effect is hard to notice, but with so many projects starting in Katrina's aftermath, "there's going to be a lot of temporary affordability lost in a tight window," Kimbrough says.
That's where CCCLT can really make a difference. "We're trying to get ahead of that by creating permanent affordability so that these units will always be affordable to those who need them," he says.
More public spaces, too
Most CLTs focus on affordable housing, but they can come in other varieties, too. The first in the U.S. started in 1969 near Albany, Georgia, as a way for Black farmers to ensure they could continue harvesting crops during the upheaval of the civil rights movement. Other CLTs focus on providing parks and green spaces.
The Los Angeles Neighborhood Land Trust (LANLT), for example, is dedicated to bringing gardens, parks, and other green public spaces to neighborhoods where those resources are lacking. Last year, it opened Golden Age Park in the Westlake neighborhood on what used to be a vacant lot. Professors from UCLA worked with local residents to design a small park that can be enjoyed by both older residents and children, with gently sloped walkways, gardens, shady areas for sitting, and, of course, a playground.
Another ambitious project, Wishing Tree Park, is quickly nearing completion. A rare green space near two interstate highways, the 8.5-acre park will open next year on a former Superfund site, offering the Del Amo neighborhood 233 new trees, a baseball field, futsal and basketball courts, a playground, picnic areas, restrooms, walking paths, and community artwork.
Jonathan Pacheco Bell, a planner who recently became a program manager at LANLT, says he was attracted to the organization because it doesn't just provide amenities — it organizes local residents. They learn to become advocates for and stewards of green spaces. Together, they've tried to keep the parks as open and accessible as possible while stressing mask-wearing and social distancing. "We envision them as healing spaces," Bell says. "They were before, and they certainly are now."
Daniel C. Vock is a public policy reporter based in Washington, D.C.