2022 Federal Priority
Zoning Reform and Housing Opportunity
Planners are leading the growing nationwide call for state and local level reforms to zoning laws and development codes that continue to limit housing supply, increase housing costs, and reinforce exclusionary rules from more than a century ago.
Effective planning-led reform efforts will improve the economy and directly address the nation's housing crisis by increasing housing choice, lowering housing costs and addressing inequities in our communities. When reforms are successful, people have access to better quality housing options and opportunities and housing infrastructure funding brings communities greater returns on that investment.
Opportunities for Action
While zoning reform is a state and local responsibility, the federal government should do what it can to encourage reforms that increase housing supply and move communities forward. Specifically, we call on the Administration and Congress to:
Advance Unlocking Possibilities, the zoning reform incentive program in Build Back Better — Despite tough political headwinds ahead for the House-passed Build Back Better package, the idea behind the Unlocking Possibilities provision enjoys strong bipartisan support. The program would empower planners to overhaul outdated local zoning rules with new incentives, technical assistance, and support for planning and plan implementation. APA remains laser focused on building support for this idea in Congress.
Ensure new housing programs in Infrastructure Investment and Jobs Act reflect good planning — The Bipartisan Infrastructure Law includes new support for housing coordination plans that would improve the connection between land use planning and transportation. Metropolitan Planning Organizations have an opportunity to ensure that these components reflect planning principles.
Prioritize fair and equitable housing plans and projects — The Administration must make good on its commitment to help communities set targets, identify local housing issues, and carry out fair housing planning.
Strengthen the connection between housing and transportation investments — Bills like the APA-endorsed Build More Housing Near Transit Act (H.R. 2483 and S. 3237) would ensure infrastructure investment provides the broadest and highest benefit by better aligning investments in housing, land use, jobs, and transportation. Building bipartisan support for this legislation and similar efforts remains a focus.
Planning and Zoning Reform
As communities take a fresh look at broken growth tools, see how planners are championing zoning and code reform as a way to provide residents with more equitable housing choices at lower costs. (APA Blog)
Planning took center stage at a recent White House briefing that underscored the Biden Administration's support for inclusionary zoning and recognition of planning's importance in addressing the housing crisis. (APA Blog)
Planners know there is no "one size fits all" when it comes to zoning reform. As we re-imagine the future of zoning in our communities, here are a few bold alternatives to the status quo. (Zoning Practice)
Zoning Reform Advocacy in Action
The provisions of Section 40103, the Unlocking Possibilities Program, represent an innovative and bipartisan approach to addressing the nation's housing affordability crisis — a challenge facing regions, states and communities as rising home prices continue to thwart homeownership and affordable rent for working and low-income families nationwide. APA joins other housing advocates to urge retention of this provision in the FY 2020 budget reconciliation package. (Policy Letter)
"We need your expertise now more than ever,"" remarked US Senator Amy Klobuchar (D-MN) at the 2021 APA Policy and Advocacy Conference. Addressing the nation's severe housing crisis, she called on planners to keep advocating for policy changes to outdated laws and codes that restrict local housing supplies. (Congressional Video)
APA President Leo Asuncion, Jr., AICP, underscores the benefits of aligning transit with housing and land use in this letter of support. (Congressional Press Release)
The YIMBY Act encourages communities to eliminate discriminatory land use policies and remove barriers that prevent the production of needed housing in communities throughout the United States. It gives the federal government, through the Department of Housing and Urban Development, a constructive role to play in solving the housing shortage and affordability crisis. (Policy Letter)
APA worked closely with congressional offices to shape the Housing Supply and Affordability Act, a bipartisan bill which would create a new tool inside the Department of Housing and Urban Development (HUD) to provide grant programs to help communities create housing action plans, update codes, and modernize regulatory structures that impact housing production and supply.
While the bill is currently packaged as part of Build Back Better, APA continues to look for opportunities to move this standalone legislation forward. (APA video)
Housing Policy Guide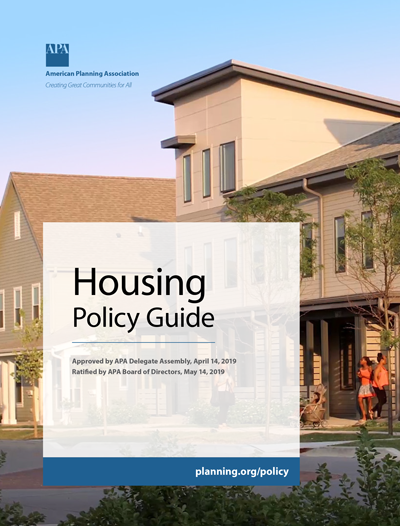 ADVOCATING FOR Housing Opportunity
APA issues housing policy guidance to federal and state decision makers and communities. Read this authoritative guidance to federal, state, and local officials on housing policy.