Local Control and Wireless Facilities Siting
PAS QuickNotes 55
By Anna Read, AICP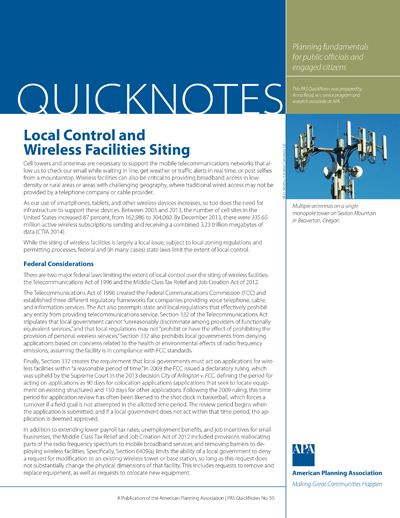 APA member & PAS subscriber
$0.00
---
This edition of PAS QuickNotes presents a brief overview of federal and state limits on the local control of wireless facilities siting and discusses some key considerations for local policy.
---
Details
Date Published
April 1, 2015
Publisher
American Planning Association
About the Author
Anna Read, AICP
Anna Read is a co-author of the forthcoming PAS report, "Planning the Wildland-Urban Interface.' She previously worked as a Senior Program Development and Research Associate in the American Planning Association's Washington, D.C. office, where she conducted applied research within APA's National Centers for Planning. Prior to joining APA, she worked on regional broadband planning efforts for the state of Missouri and as a project manager for the International City/County Management Association's Center for Sustainable Communities.  She has a Master's degree in City and Regional Planning from Cornell University.