Is Your Community TDR-Ready?
Zoning Practice — September 2009
By Richard Pruetz, FAICP, Noah Standridge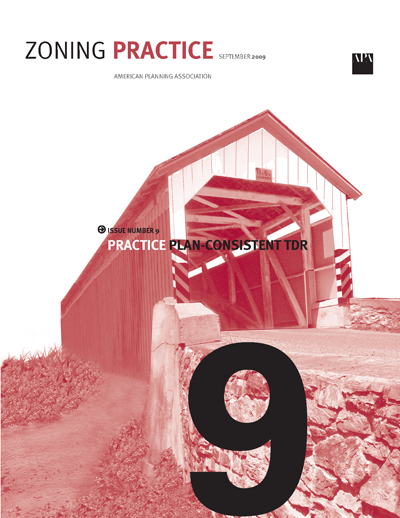 ---
A transfer of development rights program, or TDR, reduces or eliminates development potential in places that should be preserved by increasing development potential in places where growth is appropriate. TDR is used in at least 33 states and has saved more than 400,000 acres of farmland, open space, and environmentally significant land, often with minimal public funding. Despite that track record, only a fraction of U.S. cities, counties, towns, and villages use TDR, possibly because they assume that TDR program adoption is always complicated and time consuming.
However, many communities are positioned to create a workable TDR program relatively painlessly. Plan-consistent TDR works within the development limits of the current general plan through a simple requirement, which is inserted into the zoning code.
This issue of Zoning Practice explains the concept of plan-consistent TDR and includes a diagnostic tool for communities to see if they are ready for TDR.
---
Details
Date Published
Sept. 1, 2009
Publisher
American Planning Association
About the Authors
Richard Pruetz, FAICP
Rick Pruetz, FAICP, is a former planning consultant who continues to research and write about ecocities, bicycling infrastructure, and the preservation of natural, agricultural, and historic resources using transfer of development rights (TDR). He authored or co-authored over 40 TDR studies and/or ordinances and was one of authors of The TDR Handbook: Designing and Implementing Transfer of Development Rights Programs. In 2021, Rick published Smart Climate Action through Transfer of Development Rights, a book that uses case studies and profiles of 282 US programs to illustrate how TDR has been used to curb sprawl, promote energy-efficient communities, preserve farms and forests capable of sequestering carbon, and help jurisdictions adapt to climate change by protecting biodiversity and reducing or eliminating development potential in places vulnerable to wildfires, floods, and sea level rise. Rick also recently published Prosperity Comes in Cycles: Bikeways and the Virtuous Cycle, a book that documents how bicycle trails in 51 communities across the nation have increased business activity, employment, property values, and tax revenues while reducing healthcare costs and providing inexpensive options for exercise, recreation, and everday mobility.
Noah Standridge