Zoning for Temporary Land Uses
Zoning Practice — February 2019
By Patrick Sloan, AICP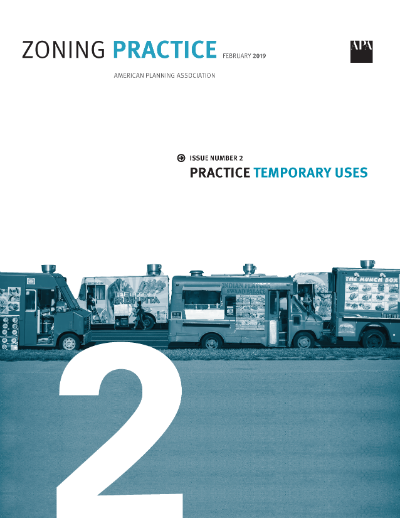 ---
Temporary land uses are in every community. Whether they take the form of a garage sale in a residential neighborhood, a farm stand in a rural area, or a sidewalk sale in a downtown (just to name a few), all communities face the same challenge: How can seemingly reasonable uses be permitted on a temporary basis while also ensuring that the zoning regulations protect public safety and the character of the area?
This issue of Zoning Practice explores many common types of temporary uses, describes why reasonable zoning regulations and procedures are appropriate, and provides recommendations for temporary use zoning provisions.
---
Details
Date Published
Feb. 1, 2019
Publisher
American Planning Association
About the Author
Patrick Sloan, AICP
Patrick Sloan, AICP is a planner with Canton Township and has previously worked with many townships and cities throughout Michigan and Ohio on development review, zoning ordinance updates, master plans, and on-site planning services. Patrick has provided training throughout Michigan on planning and zoning essentials, sign regulations, coastal zoning, temporary land uses, and many other topics. Patrick has also authored articles in state and national planning publications on planned unit developments, signs, and temporary land uses. Patrick has a Master's Degree in Urban Planning from the University of Michigan.