Gender-Inclusive Language
PAS QuickNotes 88
By Timothy Burkhardt, AICP, Jacob Reilly, Hally Turner, AICP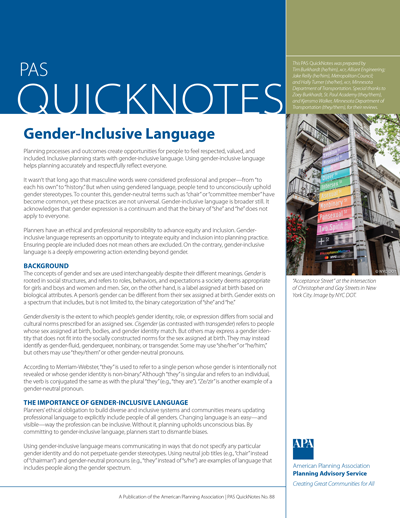 APA members & PAS subscribers
$0.00
---
Planning processes and outcomes create opportunities for people to feel respected, valued, and included. Inclusive planning starts with gender-inclusive language. It acknowledges that gender expression is a continuum and that the binary of "she" and "he" does not apply to all individuals.
Planners have an ethical and professional responsibility to advance equity and inclusion. Gender-inclusive language represents an opportunity to integrate equity and inclusion into planning practice. Using gender-inclusive language helps planning accurately and respectfully reflect everyone.
This edition of PAS QuickNotes explains the importance of using gender-inclusive language in planning and offers examples of gender-inclusive practices and approaches for planners.
Learn More
Looking to dive even deeper? Then explore gender mainstreaming — a practice of inclusive policies, regulations, and planning for gender equity that is currently employed by planners in the European Union to address the imbalance in women's access to and control of public resources and spaces. This recent PAS Memo explains what gender mainstreaming looks like in practice and how it can be integrated into U.S. planning practice.
---
Details
Date Published
Oct. 1, 2020
Publisher
American Planning Association
About the Authors
Timothy Burkhardt, AICP

Jacob Reilly

Hally Turner, AICP
Hally Turner is a planner with Minnesota Department of Transportation. Her current work in statewide planning includes advancing transportation equity, planning for connected and automated vehicles, and coordinating updates to and implementation of the 20-year statewide multimodal transportation plan. Hally previously worked at the Council on Crime and Justice, Ramsey County Community Corrections, American Academy of Neurology, and Washington County. Each position focused on incorporating public health into policy making. She graduated in 2013 with a Master of Public Health (MPH) from the University of Minnesota's School of Public Health.