Reconsidering the Role of Consistency in Plan Implementation
Zoning Practice — February 2021
By John Zeanah, AICP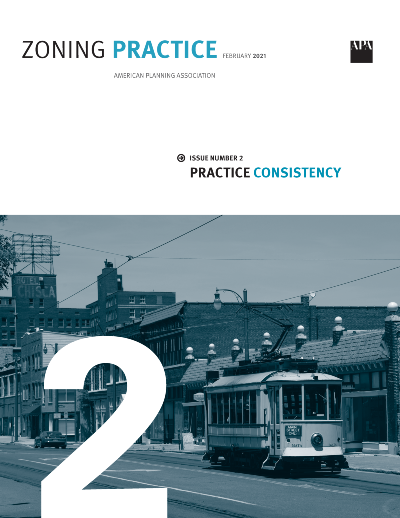 ---
Consistency ensures that zoning and day-to-day land- use decisions are made in harmony with a community's comprehensive (or general) plan. While consistency arose from aims of cities to manage mostly outward growth, the trend of development away from cities has changed in recent years. Given trends of growth back into cities, consistency is still as relevant as during the growth management era. But for this tool to be effective, planners must consider how consistency can be defined and positioned flexibly to meet the dynamic environment of the developed city. How should the comprehensive plan address consistency? Is this tool still relevant for planners today?
This issue of Zoning Practice considers how consistency is used in plan implementation to align zoning regulations and land use decisions with local plans. It makes recommendations based on case examples from across the United States for how planners and municipalities can build consistency by building stronger links between local codes, regulatory mechanisms, and existing local planning processes.
---
Details
Date Published
Feb. 1, 2021
Publisher
American Planning Association
About the Author
John Zeanah, AICP
John Zeanah, AICP is Director of the Memphis and Shelby County Division of Planning and Development. He leads a cross-functional division responsible for planning, zoning, and development services. Among his accomplishments, John led the development and adoption of the Memphis 3.0 Comprehensive Plan, the City's first comprehensive plan in 40 years and winner of the American Planning Association's Daniel Burnham Award of Excellence for a Comprehensive Plan in 2020 and a Charter Award from the Congress for the New Urbanism in 2021. Mr. Zeanah earned his Master of City and Regional Planning degree from the University of Memphis where he now teaches land use controls as an adjunct faculty member.