May 18, 2022
Over the course of 2019, the travel and tourism industries generated $1.9 trillion in economic output and supported 9.5 million American jobs, according to the U.S. Department of Commerce. That's more than the agriculture, mining, and utility sectors each that same year.
And then came COVID-19.
Now, two years into the pandemic, the sector remains so unpredictable that the National Travel and Tourism Office of the Department of Commerce has indefinitely suspended its annual Forecast for International Travel to the United States.
That uncertainty is felt differently in communities across the country; on balance, the current outlook for tourism as an economic development strategy is closely linked to both geography and infrastructure. Those with favorable weather, proximity to major metro markets, and strong funding to support and promote tourism businesses are on the road to recovery. Some destinations are benefitting, too, from a renewed interest in "backyard travel."
Others, however, continue to suffer significant revenue losses as international, events, and business travel recover at slower rates than domestic and leisure travel — and as virus variants continue to spark surges and cancellations across the country.
After two years of COVID chaos, communities are wondering: Is tourism still a viable economic development strategy?
For many, the answer still seems to be yes — but with some new considerations.
"The conversation here has shifted greatly to: How can we diversify our economy, and what would that look like?" says Thomas Soule, public affairs manager of Palm Desert, one of nine cities in Coachella Valley, a popular resort region in southern California.
With an eye on recovery and stability, communities with tourism-dependent economies are now looking for ways to stimulate new industries through tourism, take advantage of sector trends and local assets, and better support the people who live and work there year-round.
Shifting audiences and industries
With golf courses, major shopping centers, and extensive lodging options (resorts, hotels, and short-term rentals) that pay into the city's transient occupancy tax (TOT), Palm Desert banks on tourism.
"Sales tax is our number one revenue generator, followed closely by TOT — and tourism fuels both," says Soule. He initially joined Palm Desert's city staff as the first tourism and marketing manager; now, he continues to serve as the city's tourism liaison while taking on a broader public affairs role. "We're in an interesting moment right now with COVID. Just as we start to get our footing back, another wave will come up."
That pattern has hit the Coachella Valley's biggest moneymakers hard. Roughly equidistant from Palm Springs and Indio, Palm Desert's tourism outlook is closely linked to the success of several major festivals and events, particularly the Coachella Valley Music and Arts Festival in Indio, which spans six days over two weekends and brings approximately 200,000 visitors to the region. Coachella, as it's better known, was canceled in April 2020, rescheduled for that October, canceled, rescheduled for April 2021, canceled, rescheduled for October 2021, and then canceled again. The show was finally able to go on in April of this year.
In the meantime, Palm Desert made do with leisure travelers from southern California's major metropolitan "drive markets," including Los Angeles, Anaheim, and San Diego, which together amount to some 15 million potential visitors. According to data from Visit California, the state's official marketing organization, the Coachella Valley region has seen a 10 percent increase in in-state visitors.
That represents a significant shift in thinking from pre-COVID days, Soule says, when international travelers were key targets because of their longer stays. The international travel bans of the early pandemic forced the recalibration, but at the start of 2022, even with bans largely lifted for vaccinated travelers, some cities are wary of investing now-scarce resources in the global game. With the prospect of future pandemic-related travel bans, political uncertainty, and increasingly frequent extreme weather, some tourism researchers recommend keeping the focus closer to home.
To do so, Soule says the city and its partners in regional and county government are using a variety of techniques, including funding advertising campaigns and funneling federal, state, and regional grant opportunities to local businesses to help them ramp up safety and marketing efforts. The city has also temporarily lifted zoning restrictions to entice city dwellers with the promise of al fresco restaurant experiences.
While these efforts have managed to keep the local tourism industry afloat, the city is looking to the future with a more critical eye. "The same question is coming up now as after the Great Recession," Soule says. "Are all of our eggs in one basket here? Does this make us more vulnerable?"
Amid these concerns, Palm Desert is taking major steps to diversify its economy, starting with courting the innovation sector. The city recently opened a business incubator dubbed Palm Desert iHub, managed by the Coachella Valley Economic Partnership.
"We're trying to encourage small businesses that are very tech focused, forward thinking, and set them up to help take our economy in new directions," Soule says. "But it's not an easy fix, and it's not a short-term fix."
One of the city's weaknesses, he explains, is broadband. While internet access is nearly ubiquitous across Palm Desert, the kind of superfast, super-reliable connection needed to attract major tech businesses is not yet available. The city also lacks robust housing options to support a diverse workforce. The median household income hovers around $50,000, but according to Realtor.com, the median list price for a home in Palm Desert was nearly $550,000 in early 2022, while RentCafe.com reports that 73 percent of rental payments exceed $1,500 per month.
"As a resort destination, short-term rentals of course play a role, and we need them to satisfy some visitors' preferences for that kind of accommodation," Soule says. "But we also find ourselves thinking about affordable housing so that we have enough housing for our workforce — all levels of housing. Our retail sector, hotels, restaurants . . . those all require workers who need [more affordable] housing."
At the end of 2020, Palm Desert voted to enact short-term rental (STR) regulations that prohibit properties in multiple districts zoned residential. In these areas, homes can only be listed on sites like Airbnb if hosts remain onsite during guests' stays, or if they're located in gated neighborhoods where homeowner associations permit STRs.
"This pandemic has driven home, with great drama, just how critical it is that we diversify our economy," Mayor Kathleen Kelly said in 2020 when the city council met to vote on the issue. "As that begins to happen, we're going to be attracting additional workers to Palm Desert, and a paramount policy of this city has been to house more of the workers who are employed in Palm Desert within the city. That is probably the single most significant thing we could do to have a positive impact on the environment, because housing more of the people who work in Palm Desert within the city reduces, or eliminates, commutes. To accomplish that, we have to, as a matter of policy, guard against the commercialization of traditional neighborhoods, which would reduce, rather than increase, available housing for working people who are part of Palm Desert."
The STR ban was challenged with a lawsuit in 2021 but remains in effect.
Agritourism and zoning
Nearly 3,000 miles from Palm Desert in the Finger Lakes region of New York, Brittany Gibson also cites drive-in markets as the community's saving grace during the pandemic.
"We are within a five-hour drive of 25 percent of the country's population, so we have a really high potential audience," says Gibson, executive director of the Seneca Lake Winery Association, a membership organization comprising dozens of wineries that collectively market the area as a tourism destination, in partnership with the regional Finger Lakes Tourism Alliance. Located in rural western New York, Seneca Lake and the Finger Lakes region are within a few hundred miles of New York City, Boston, Philadelphia, and Pittsburgh residents.
"Throughout COVID, we've really benefited from that proximity," Gibson says. "We've been part of the rediscovery of what's in their backyard."
They've also capitalized on a fast-growing segment of the tourism industry: agritourism. Encompassing tastings at vineyards, pick-your-own berry farms, oyster farm dinners, and the like, agritourism is increasingly seen as a way for farms and ranches to broaden their appeal and add to their bottom line.
According to the National Conference of State Legislatures, state policy makers are supporting these efforts, and interest in agritourism is growing across the country. However, supporting agritourism can be a less-than-straightforward proposition for planners in many communities. Zoning ordinances, for example, often consider farming and events like weddings or concerts to be incompatible uses — largely because of the traffic they generate on rural roads, but also because of issues that can impact rural neighbors, like exterior lighting, parking, and noise.
In some regions, the tension between supporting agritourism and upholding zoning restrictions has led to public battles between agricultural businesses and residents, with planners caught in the middle. In Sonoma County, California, agritourism has expanded rapidly over the past two decades as hundreds of wineries, breweries, and orchards have sought to market their agricultural properties as destinations for tastings, tours, educational experiences, and private events. Pressure has been mounting from these businesses in part because of pandemic-related revenue losses. Local farmers who supplied area restaurants, for example, saw many accounts dry up overnight when hospitality outlets were forced to close.
In response to this pressure, Sonoma County planners drafted a Winery Events Ordinance aimed at balancing the interests of residents with economic considerations of wine tourism. Presented in mid-2021, the ordinance is currently moving through the public process and, if adopted, could serve as a model for other cities and regions facing similar issues.
"Zoning is a hot topic in our area right now," says Gibson, noting that some towns in the Finger Lakes region still have no zoning ordinance of any kind in place. In her rural community, tourism, aesthetic regulations, and preservation are currently driving the conversations. Issues related to siting solar farms, New York State's recent legalization of recreational cannabis, and warehouse development along major thoroughfares all have the potential to impact the ways people perceive and experience the region, she says.
"Communication is what's important. We have to break down the barriers between economic development and community management and political leadership and destination marketing organizations and chambers of commerce," says Gibson. "We all have to be at the table together."
Cultural tourism
Another fast-growing trend, cultural tourism, is guiding efforts in places like Providence, Rhode Island. Branded and marketed as "The Creative Capital," Providence is advancing an economic development strategy that weaves tourism development with strengthening the city's arts and cultural sectors.
"[We have] a dual mission to integrate arts and culture into community life while showcasing Providence as an international cultural destination," says Stephanie Fortunato, director of the city's Department of Art, Culture, and Tourism. "We are always weighing the needs of residents and businesses with those of visitors to the city. This balancing act is certainly present as we think about the city's recovery."
As the home of Rhode Island School of Design, the Ivy League Brown University, and culinary arts powerhouse Johnson & Wales University, Providence leans hard into its cultural assets to attract tourists and create jobs for residents. In 2021, the city released a draft of its updated cultural plan, PVDx2031: A Cultural Plan for Culture Shift. PVDx2031 emphasizes the importance of partnerships between the city, cultural organizations, the tourism industry, and local creatives and designers. It also underscores the importance of elevating BIPOC (Black, Indigenous, and people of color) and LGBTQ voices in strategic planning efforts and leadership roles.
Specifically, some of the plan's key takeaways include calls for living-wage jobs for artists and investments in arts and culture to acknowledge and repair trauma stemming from the city's historical ties to slavery and colonization of Indigenous lands.
This plan is likely to have some teeth as the city gets ready to deploy federal recovery funds. "Mayor [Jorge] Elorza's proposed plan for using the city's American Rescue Plan funding addresses not only the needs of art tourism and hospitality, but also considers how this fits in amidst all of the other areas of investment needed for Providence not just to recover, but to thrive," says Fortunato.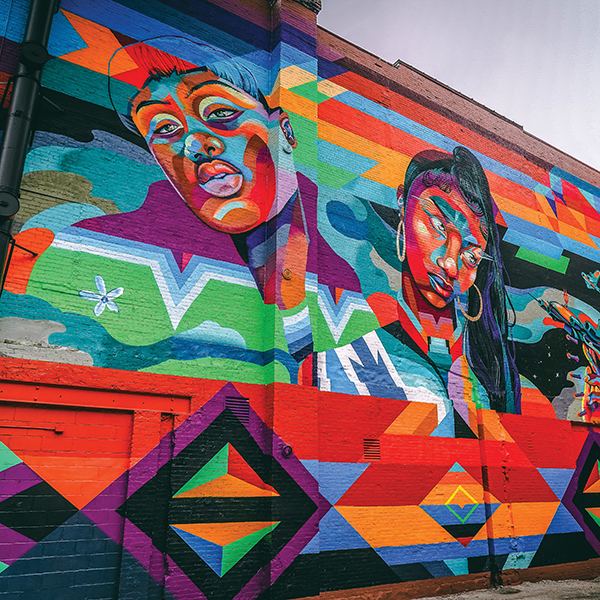 The plan proposes $7.7 million in art tourism and hospitality funding to support investment in the creative industries and partner sectors, aiming to create jobs in each of the city's 25 neighborhoods. This investment also aims to shore up Providence's position as a cultural destination, earmarking more than $4 million for expansion and improvement of cultural facilities, $1.2 million to support development of cultural events, and nearly $1 million to create public art aimed at encouraging tourism, among other arts-related investments.
Much is riding on this focus on cultural tourism. With the slow recovery of business travel and large group events, Providence hotels are still struggling.
"Occupancy has plummeted," says Fortunato. "Providence has not fully recovered because meetings, conventions, and sports are the backbone of the tourism economy here."
Destination marketing districts
While Boston has suffered from many of the same issues as Providence, some credit the pandemic with expediting a long-sought solution to the city's need for a dedicated and dependable funding mechanism for destination marketing.
In January 2021, Governor Charlie Baker of Massachusetts signed an economic development bill that included a provision enabling the formation of Tourism Destination Marketing Districts (TDMDs) in the state. These districts, elsewhere known as Tourism Improvement Districts (TIDs), permit hotels to add a nominal assessment fee (typically between 1 and 10 percent) to guest bills that is then invested back into local development and marketing. In California, where the concept was first introduced in 1989, there are now more than 85 active TIDs that together generate approximately $180 million in annual funding for tourism development and marketing, according to a white paper by tourism-research firm Tourism Economics.
Boston has struggled to gain tourism and convention market shares against well-funded competitors. The TDMD is projected to increase local tourism funding fivefold, from $7.5 million in 2019 to $40 million when hotel occupancy and rates return to pre-pandemic levels.
Martha Sheridan, president and CEO of the Greater Boston Convention and Visitors Bureau (GBCVB), describes the all-hands-on-deck effort to get the state and local legislation passed: "[We] worked with many partners and stakeholders to form the TDMD, including state and city officials. We operated on many parallel tracks as we sought to pass enabling legislation in the Massachusetts legislature while also socializing the concept with our hotels and educating them on why we desperately needed to create a district."
The enabling legislation had been languishing in committee for nearly two years. GBCVB saw an opportunity to attach the TDMD bill as an amendment to a larger economic recovery bill aimed at pandemic relief. The local ordinance to form a district passed unanimously in August of 2021.
A focus of their messaging throughout the process was the long-term positive outlook of the TDMD. They framed the passage as necessary to recovery of the travel and hospitality and the sectors' diverse workforces, which comprise about 10 percent of the labor market in the state. Besides the provisions for hotels, the district plan — developed in collaboration with elected officials — also addresses the community, including sustainability concerns and commitments to equity, diversity, and inclusion initiatives. An example is the recently launched marketing campaign All Inclusive Boston, which endeavors to both attract a more diverse tourism audience to the city and to promote cultural assets across all of Boston's neighborhoods.
Ultimately, tourism has ripple effects in other key economic sectors, Sheridan says — which is why Boston is still betting on it as an economic recovery and development tool.
"So many of our innovation sectors — medical research, life sciences, smart manufacturing, and fintech — depend on recruitment and retainment strategies that are directly linked to how we market the destination," she says. "For example, the cultural, culinary, and commercial assets that we promote to draw visitors are often the same essential characteristics that make someone want to attend school here, or move here for work, or relocate a business."
"We see the recovery of [tourism] as integral to the overall vibrancy and vitality of the regional economy," Sheridan says.
RECOMMENDED ARTICLES