Student Planning and Design Competition
2024 Student Planning and Design Competition
The 2024 Student Planning and Design Competition invites teams of students pursuing degrees in accredited planning programs to participate. New this year is the competition focus on a community redevelopment project in the 2024 National Planning Conference's (NPC24) host city, Minneapolis, MN. The attention to student design in these real-life spaces continues APA's ongoing effort to provide leadership in the development of vital communities. By advocating excellence in planning, promoting education and citizen empowerment, APA hopes to provide the tools and support necessary to meet the challenges of growth and change.
The 2024 Student Planning and Design Competition will be held at NPC24 in Minneapolis, MN April 13-16, 2024. If you have any questions, please reach out to students@planning.org.
Project Site Location
New Nicollet Redevelopment
The 2024 Student Planning and Design Competition project site location is the New Nicollet Redevelopment, the former Kmart site in South Minneapolis, MN. This project site covers 10 acres of land between the Midtown Greenway, Lake St, 1st Ave, and Blaisdell Ave. The site has served the daily needs of residents for decades.
Important Dates
September 1, 2023
Project Site Location Announcement
Submissions for Student Planning and Design Competition: Cover Contest Opens
September 22, 2023
Submissions for Student Planning and Design Competition: Cover Contest Closes
October 2, 2023

Prompt Released
Registration Portal Opens
Q&A Portal Opens

Student Planning and Design Competition: Cover Contest Winner Announced

November 17, 2023
Registration Portal Closes
Q&A Portal Closed
November 20, 2023
Responses to Questions Posted Online
January 8, 2024
Submission Portal Opens
February 9, 2024
Submission Portal Closes
March 8, 2024
Initial Jury Deliberation
March 11, 2024
Finalists Notified
April 13–16, 2024
Final Presentations to NPC Jury in Minneapolis
Previous Winners
2023
Arizona State University | Sun Devil Development Team
Arizona State University's, Sun Devil Development Team, ranked first-place winners of APA's 2023 Student Design Competition at the National Planning Conference in Philadelphia, Pennsylvania, bringing home a cash prize of $2,500.
Vision Statement
"The Logan Triangle will be mended back into the urban fabric of the Logan Neighborhood having become a healthy, safe, affordable, desirable, and sustainable community by 2033. This will be accomplished by The Stitch Project, a design that will transform the Triangle from a detached piece of Philadelphia's urban fabric, back into a vital part of the Logan community. The Project will accomplish this through four categories of complementary activities: connecting people with places, blending old and new, enhancing quality of life, and reviving to thrive."
2021
First Place
Reimagine, Macon Georgia
Team Reimagine — University of Georgia
Team Reimagine pursues to help regenerate a city that has struggled with many challenges regarding civic engagement, socioeconomic mixing/racial injustice, connectivity between communities, and environmental sustainability. The purpose of honing deep on site context and analysis was to find the true character of the spaces and the people of Macon. Our proposed ideas and designs strove to not only tackle the existing challenges but to also help create a healthy and safe environment for all residents in the community through public access, parks and recreation, and revitalizing the downtown.
Team Members: Adolfo Martinez, Karlie Roper, Margaret Apperson, Duncan Watts, Jeremy Smith, Anneka Pace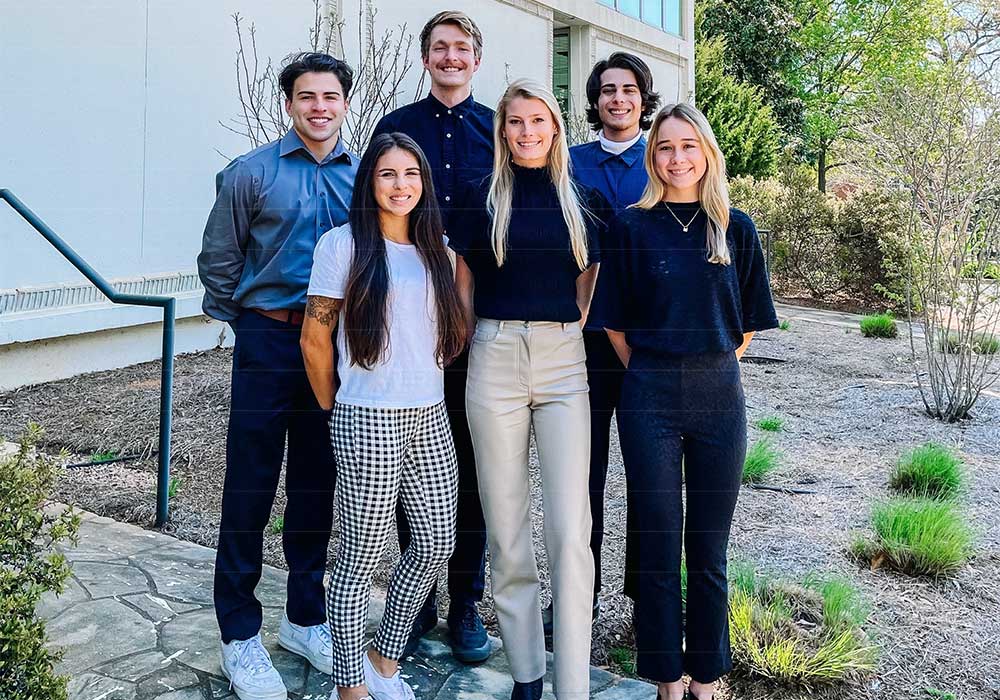 2020
First Place
Team RES
Columbia University
"Team RES (resilient, responsive, restorative) seeks to promote healthy communities, support workforce development and community entrepreneurship, increase high-quality housing options, and incorporate strategies that optimize environmental assets and awareness. Through our proposal, we seek to address some of the community's concerns targeting flood mitigation, environmental remediation, gentrification, housing affordability, and the high crime rate. We explore the myriad of solutions around planning for communities that are equitable, resilient, and for residents who need ready access to housing that's affordable."
Second Place
University of Illinois-Urbana/Champaign
Third Place
Harvard University
2019
Team Fruitpad
Cornell University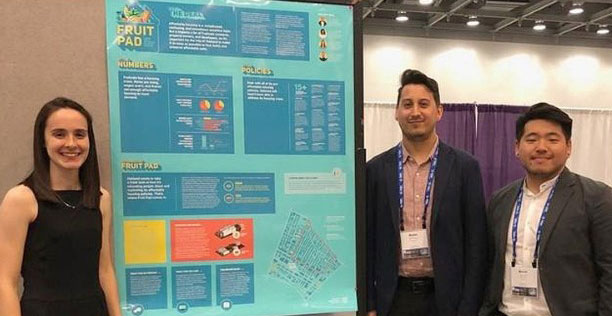 2018
NOLA Shares
Cornell University
Team Leader — Anna Callahan; Team Members — Thomas Pera, Hannah Plummer, Kari Spiegelhalter
NOLA Shares features a web and app-based platform that aims to increase and facilitate shared skills, resources and knowledge across the Iberville community in downtown New Orleans. In addition to cloud-based infrastructure, the team proposed physical kiosks installed throughout the neighborhood to guarantee access for all residents.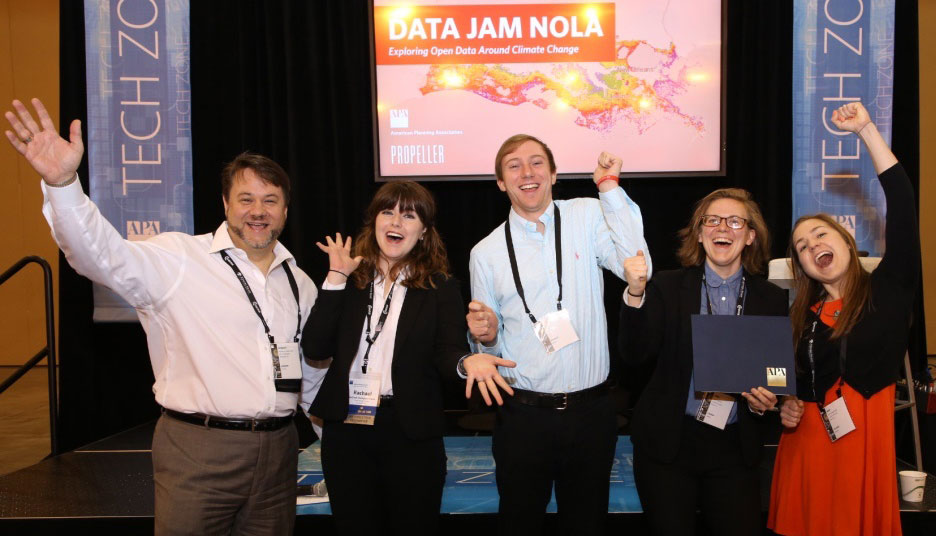 2017
L.E.A.P. to a Smart Future
University of Illinois at Urbana-Champaign
Team Leader — Xiaochen Chen; Team Members — Yuanyi Xiao, Donggyu Lee
The 2017 Student Design Competition invited interdisciplinary student teams to apply place-based Smart City technologies to a specific New York City site. The winning team, L.E.A.P. from the University of Illinois at Urbana-Champaign, creatively identified a four-part vision — L.E.A.P. to a Smart Future — detailing how Smart City technologies could be used to improve Livability, Empowerment, Accessibility, and Play on site.
Finalists
Four additional teams were selected as finalists and presented their ideas at the National Planning Conference in New York City.
Smart CATS
Kansas State University
Adaptive Strategies
New York University
UCLA MURPs
University of California, Los Angeles
The All-Nighters
University of Illinois at Urbana-Champaign