Students and New Planners
Make Connections to Launch and Advance Your Career
You're excited about making a difference in your community, and you're not alone!
Whether you're a planning student or new planner, we'll help you connect with peers and pros who will help you gear up for the planning career of your dreams.
Socialize for Success
More than 40 universities host Planning Student Organizations that help planning students interact with peers, faculty and the local community outside the classroom.
Young Planners Groups expand networking with professional planners at the chapter level for recent graduates and new planners who are looking for mentors, fun events, and volunteer opportunities.
Interested in a planning specialty? Consider APA's 21 Divisions for exposure to topics that you're passionate about.
Be a Leader
Add your voice to the national conversation around planning:
Get Recognized
Compete for awards, scholarships and fellowships from APA, its chapters and divisions, and other organizations.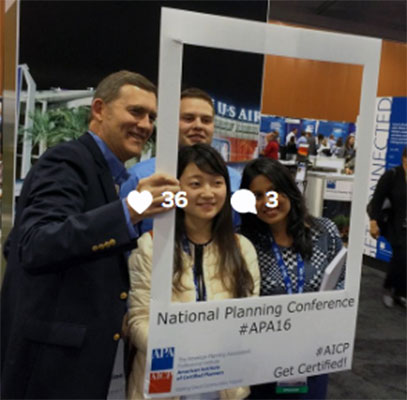 Connect Online
Join us on:
Follow our LinkedIn page for career-related content, and engage with fellow planners in our LinkedIn group.
---
APA Student and New Planner Members get all kinds of information, discounts and career advice, and best of all, your first year of membership could be free!