Outstanding Planning Student Organization (PSO) Awards
2021 Outstanding PSO Award Winners
Winner
The Georgia Tech Student Planning Association (SPA) is a volunteer organization comprised of graduate students in the School of City and Regional Planning (SCaRP). Throughout the year, SPA conducts a variety of social, academic, career development, and community outreach events responsive to student needs and interests. Affiliated with the Georgia Planning Association and the American Planning Association, SPA is a strong partner of Georgia Tech's SCaRP, supporting initiatives for student academic and career success and ensuring that student learning goals and achievements are communicated to faculty.
SPA would use the cash prize to support three important efforts at Georgia Tech. First, we would support SCaRP's new Equity, Justice & Inclusive Design Fellowships, which offer scholarships to graduate students of color. Second, we would bolster programming for international students who are facing particular hardships as a result of the pandemic. Third, the cash prize would be used to further support Black Lady Planners, a student-led organization that creates safe spaces for Black people and uplifts their work in planning. Supporting these three efforts ensures that SPA continues to provide meaningful student engagement.
Honorable Mention
The Student Planning Association (SPA) at Arizona State University (ASU) is an evolving student-led organization that primarily represents students in the Bachelors of Planning (BSP) and the Master of Urban and Environmental Planning program (MUEP) programs. Its leaders are a diverse group of first- and second-year graduate students and a few undergraduate representatives. The elected board members genuinely want to see planning students succeed by creating a welcoming platform for student engagement and discussion while also increasing access to professional development opportunities. Even during the unfortunate situation of the COVID-19 pandemic, the organization provides multiple ongoing opportunities for students to continue their involvement and grow their network through community volunteering and interaction with APA's Arizona Chapter. SPA representatives also join faculty meetings to provide valuable feedback to school representatives, including faculty and staff. This transparency has helped us have valuable conversations with both students and school representatives. Ensuring good communication through this practice has helped to alleviate challenges much more quickly.
SPA has worked diligently to create a heightened experience for planning students to share and connect to enhance their education and experience in the urban planning field. Through consistency, hard work, and passion, the future cohorts will notably advance from SPA's efforts. The APA PSO funds will be utilized to fund more professional development opportunities that SPA members have requested, such as AICP training. Funds may also help provide healthy food security to university students by collaborating with the ASU Garden Club. Alternatively, the funds may also be used to help fund a field trip to local communities for students to meet with professional planners and conduct site visits of the downtown.
Third Place
2021 Outstanding Planning Student Organization Awards Jury
---
Juror
Emily Loughlin
Emily Loughlin is a second year student at the University at Albany, SUNY, vice president of communications for the department's Planning Student Organization, and the APA liaison.
---
Juror
John Gaber, PhD, AICP
John Gaber, PhD, AICP, is the department chair of City Planning and Real Estate Development and City and Regional Planning professor at Clemson University. Dr. Gaber has over 32 planning research articles published in journals including the Journal of Planning Education and Research, Journal of Architecture and Planning, Evaluation and Program Planning, Journal of Planning Urban Development, and Journal of the American Planning Association. His most recent research projects include Hippietowns, Sherry Arnstein's Ladder of Citizen Participation, qualitative research techniques used in citizen participation projects, and mixed-method research strategies.
---
Juror
Mary Szeliga
Mary Szeliga is a Master's in Urban Planning and Policy student at the University of Illinois at Chicago, specializing in economic development. She is currently working at UIC's Office of Research on Student Success, aiding in researching methods to increase equity, inclusion, retention, and graduation rates.
---
Juror
Selina Angel
Selina Angel received her bachelors degree from the University of Texas at San Antonio (UTSA) in Architecture. She is currently in her last semester pursuing her Masters in Urban and Regional Planning while also obtaining a Graduate Certificate for Historic Preservation. Angel is currently the office manager and lead CAD technician at Alamo As-Builts, a design firm that specializes in as-built and construction drawings for residential and commercial remodels. She serves as the president of the Urban Planning Student Association at UTSA, is a student representative for the Graduate School at UTSA, and is a student sepresentative for the American Planning Association's Texas Chapter Southwest Section.
---
Previous Winners
2020
Winner
The University of Texas at San Antonio (UTSA) is home to the Urban Planning Student Association (UPSA). UPSA represents graduate and non-degree students pursuing a master's degree or a Certificate in Urban and Regional Planning at UTSA. The association was formed in August of 2011 by its seven founding members. By its second year, UPSA membership had doubled. UPSA's mission is to encourage all UTSA College of Architecture, Construction, and Planning graduate and non-degree seeking students to participate in extracurricular activities, promote planning efforts and education, and strengthen connections amongst planning professionals. UPSA's hope is that it provides a supportive platform for planning students and provides a space for students to explore new ideas in the planning of cities and regions.
The $2,500 cash prize awarded to UPSA will be used to continue the professional development of the UPSA members through guest lectures, facilitate member-led initiatives throughout the UTSA community and the city of San Antonio, and provide travel assistance for members to attend and participate in future APA chapter and national conferences.
Honorable Mention
EJB DESIGNS is a student organization of the Bloustein School of Planning and Public Policy at Rutgers University that seeks to facilitate discussion, practice, and innovation in the graphic conveyance of planning ideas. Recognizing that intuitive drawing skills improve a planner's ability to improve the physical environment, this organization seeks to demonstrate the benefits of sketching first and using computer programs second to build a strong foundation for effective communication of planning strategies. Under this mission, EJB DESIGNS explores and shares graphic rendering techniques that complement the urban planning and design process. In addition to leading graphic design practice sessions and student-led workshops, EJB DESIGNS provides graphic support for public planning initiatives around New Jersey and hosts special events to engage students, alumni, planning professionals, and the general public with the planning profession.
The organization began in 2018 as an informal group of students looking to improve their hand-drawing skills and digital graphic techniques. With the guidance of faculty, EJB 1 DESIGNS grew in membership and reputation, becoming involved in several community projects around New Jersey including Phillipsburg, Passaic, and Newark. Through practice and social networking, members prepare for the planning and urban design profession. EJB DESIGNS plans to use the award funds to offset the costs of hosting special events like charrettes, guest speakers, and workshops for academic affiliates and the professional planning community.
Third Place
Fourth Place
2020 Jury
---
Jury Member
Chanelle Nicole Frazier
Chanelle Nicole Frazier is currently pursuing her master's in Urban Planning & Environmental Planning at the Barbara Jordan and Mickey Leland School of Public Affairs at Texas Southern University. Frazier graduated from the University of Houston with a Bachelor of Arts in Art History and a minor in African-American studies. She has worked on projects for the Emancipation Economic Development Council, Museum of Fine Arts, and Contemporary Arts Museum of Houston. Internationally, she has worked with The National Museum of Ghana, The African Artists' Foundation (Nigeria), and Palais des-Beaux Arts (Belgium), serving in the capacity of either a grant writer, curatorial researcher, or project assistant. Frazier presently works for The Children's Assessment Center as a Development Coordinator and is the president of Texas Southern University's Student Planning Organization.
---
Jury Member
Bruce Stiftel, FAICP
Bruce Stiftel is Professor Emeritus of City and Regional Planning at Georgia Institute of Technology. His work concerns collaborative governance of environmental policy and international movement of urban planning ideas. Former president of the Association of Collegiate Schools of Planning, he is the Education Subcommittee chair of APA's National Planning Conference Committee, a member of the Editorial Advisory Board of the Journal of the American Planning Association, and represents the Global Planning Education Association Network to the steering committee of UN-Habitat's University Network Initiative.
---
Jury Member
Barry Nocks, FAICP, PhD
Barry Nocks has over 40 years of experience as a practicing planner, educator, administrator, consultant, and citizen planner. He is professor emeritus and lecturer in the Graduate Program in City & Regional Planning at Clemson University, having previously served as professor, director of the MCRP program, and associate dean during his 41 years at Clemson. He has served on and chaired the Planning Accreditation Board. In Greenville, South Carolina, he has served on the City Planning Commission (2001–09) and the city's Design Review Board (2009–16). Nocks earned a BS degree in Industrial Engineering/Operations Research from Cornell University and the MRP and PhD degrees in Planning from UNC-Chapel Hill.
---
Jury Member
Meagan Ehlenz, AICP, PhD
Meagan Ehlenz is an assistant professor at Arizona State University's School of Geography and Urban Planning. Her major fields of study include urban revitalization and community development, with specializations in the role of anchor institutions in urban places and mechanisms for building community wealth. Ehlenz holds a PhD from the University of Pennsylvania in City & Regional Planning. Previously, Ehlenz worked as a planning consultant in Southeastern Wisconsin and as a senior planner for the City of Milwaukee's Department of City Development. Ehlenz is a certified planner with the American Institute of Certified Planners (AICP).
---
Jury Member
Lian Plass
Lian Plass served as president of the Student Planning Association at the University of Florida during the latter part of 2019. In this capacity, Plass worked to support her fellow e-board members and open up opportunities for planning students. Plass's broad interests include transportation planning, resilience-building in coastal communities, and infill redevelopment. Plass obtained her master's in Urban and Regional Planning from the University of Florida and her Bachelor of Arts in Sustainable Development from Columbia University. She also served for two years as sustainability administrator for the City of North Miami.
---
2019
Winner
University of Southern California Associated Students of Planning and Development (ASPD)
The 2019 Outstanding PSO is the Associated Students of Planning and Development (ASPD), the Planning Student Organization for the Master of Planning program at the University of Southern California Sol Price School of Public Policy. ASPD was developed to provide planning students a formal space to organize, explore, and promote academic and professional development opportunities related to the field of urban planning while fostering networking relationships among people interested in the field.
ASPD plans to use the cash prize to broaden the scope of programming currently offered, to including scholarships and travel assistance for planning students to attend APA conferences, honorariums for special guest speakers, and activities to better engage community members. This award will also help to implement a variety of new initiatives such as the Urban Crawl in Tijuana, an on-campus planning conference known as the "ASPD Urban Summit," and a much more expansive Planning for College event. With the award, the group will deepen its relationships with the broader Los Angeles community and APA, strengthen and grow our current programming and projects, and bolster our overall impact as an organization.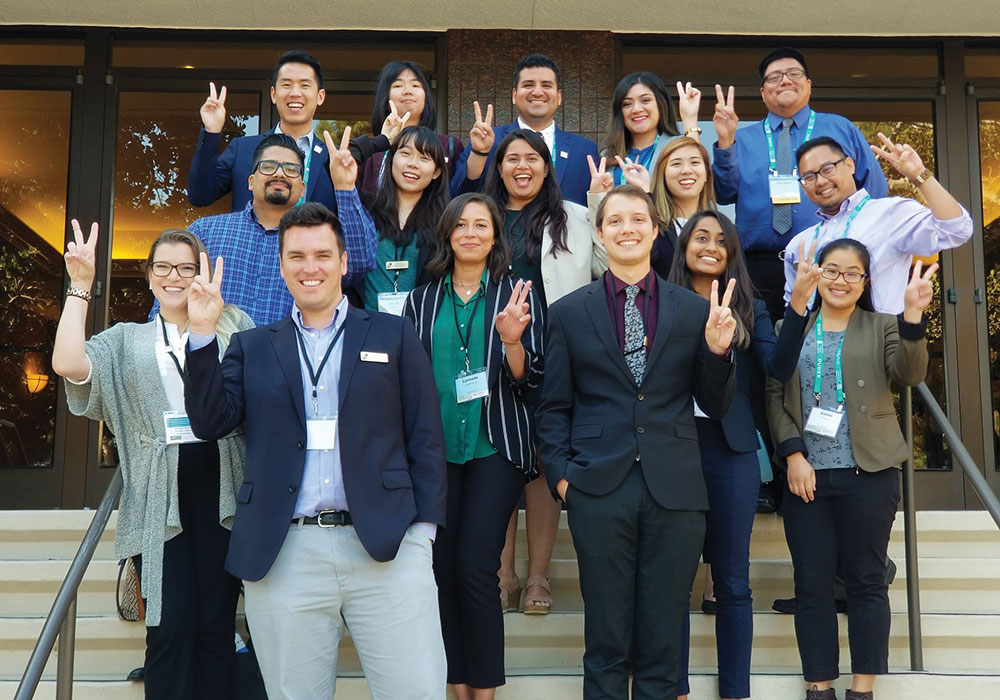 Honorable Mention
University of Michigan Urban Planning Student Association (UPSA)
The Urban Planning Student Association (UPSA) at the University of Michigan serves to explore, promote, and support academic understanding, professional development, and the overall advancement of the field of urban and regional planning. UPSA provides social, academic, and professional programming for students, and it advocates for the program within the university.
As a representative student organization, UPSA has been the voice of emerging planners at the University of Michigan for over 20 years, tailoring activities to meet student needs with each iteration. Leadership positions are peer-nominated and elected to represent the current master's and PhD students in the urban and regional planning program. Over the past year, UPSA has spearheaded activities and events to enhance the student experience, create a robust and cutting-edge program, and by extension, continue to develop professionals and academics who advance the field.
2018
Award in the Category of Involvement With APA
Award in the Category of Community Outreach
Award in the Category of Best Practices
Honorable Mention
An honorable mention is awarded to Georgia Institute of Technology's Student Planning Association.
2016
Congratulations to the Indiana University of Pennsylvania and the University of North Carolina at Chapel Hill, winners of the 2016 Outstanding Planning Student Organization (PSO) Awards!
Honorable mention awards go to the University of California at Los Angeles for its Planners of Color for Social Equity and the University of Illinois at Urbana-Champaign for its Student Planning Organization (SPO). These planning student organizations were all recognized at the 2016 APA National Planning Conference in Phoenix for their accomplishments.
Indiana University of Pennsylvania Planning Student Organization
Project: The PSO Chapter of IUP participated in and organized a series of community outreach activities in 2015, working with and raising awareness among local city government, neighborhood, businesses and non-governmental agencies. Highlights include: the Indiana University District (IUD) planning effort, a bike rally to raise the awareness of the Hoodlebug Trail extension, the New Kensington Better Block event, the Walk Works Program outreach at the Northern Appalachian Folk Festival, teaming up with KABOOM to build a playground in the Indiana Borough, building a parklet during National Community Planning Month, and supporting the APA Pennsylvania Chapter annual conference, among many others.
University of North Carolina at Chapel Hill's Planners' Forum and Carolina Planning Journal
Project: Students at Carolina Planning have been very busy this year organizing a series of initiatives to create a meaningful experience for its students.
First, the Carolina Planning Journal published a print volume in May 2015 around the theme of "Planning for the New Economy." It also launched a new blog that features student, academic, and practitioner work called Carolina Angles. Carolina Angles publishes twice per week and has already attracted a wide readership of almost 2,000 unique visitors.
Second, its inclusion group, Plan for All, hosted twelve events that engaged issues ranging from planning for LGBTQ folks, public engagement best practices, black planning history, hazard planning and equity, and more. The group hosted Durham Mayor Bill Bell for a conversation about race and poverty in September 2015. Plan for All members are also working with faculty to identify gaps in the curriculum relating to race, class, gender, and equity.
Third, its Career Development Committee coordinated a number of events and resources to assist students in finding jobs and internships in the field, such as resume workshops and mock interview events.
Lastly, its students organized a Fall Break Trip to Atlanta that connected Carolina Planning students with some of Atlanta's most exciting planners such as planner Ryan Gravel, who dreamed up Atlanta's Belt Line, Tim Keane, Atlanta's Planning Commissioner, and Nedra Deadwyler, founder of Civil Bikes.
Indiana University of Pennsylvania and the University of North Carolina at Chapel Hill each received $1,250 in donation from our sponsoring APA divisions. Thank you to these divisions and to the volunteers who served on this year's jury.
2016 Award Fund Contributors
City Planning and Management Division
County Planning Division
Economic Development Division
Federal Planning Division
Housing & Community Development Division
Planning and Women Division
Private Practice Division
Regional and Intergovernmental Division
Small Town and Rural Planning Division
Urban Design & Preservation Division
2015
Congratulations to Cornell University's Design Connect and San Jose State University's Urban Planning Coalition, winners of the 2015 Outstanding PSO Awards.
An honorable mention award goes to the University of Central Florida's Emerging Urban Knights Planning Association for its "Technical Skills Workshop Series."
These student organizations were recognized at the 2015 APA National Planning Conference in Seattle.
Design Connect, Cornell University
Design Connect, The First Five Years: Case Studies and Impact
Project: The student organization Design Connect provides design and planning services to local upstate NY communities in need. The organization has worked on community service projects in several communities over the last five years. Each project involves public participation and community outreach where students organize and conduct meetings with community leaders and the general public. In addition to meeting with community leaders, students work on behalf of residents in producing professional quality reports and design proposals. The deliverables and final designs that multi-disciplinary teams produce are of value to local communities who would otherwise lack the resources needed to work on these projects. The organization is managed by an administrative board of directors that is entirely comprised of students. Since 2009, Design Connect has worked in over 22 local communities and has involved hundreds of students from 16 different academic fields. Planning students help introduce students from other academic disciplines to community outreach methods and practices and put in to practice the skills they learn in the classroom.
Urban Planning Coalition, San Jose State University
Fall Symposium: Boomers and Millennials
Project: The Urban Planning Coalition (UPC) organized and hosted its annual Fall Symposium on October 18, 2014. The Symposium is one of the UPC's richest traditions, providing a full-day conference and open forum for students and professionals to engage in a current planning topic together. This year, the Symposium was titled, "Boomers & Millennials: Planning for Changing Demographics in the Bay Area," bringing together students, alumni and professionals to discuss a planning topic critical for the success of future communities.
Design Connect and the Urban Planning Coalition received $1,125 in donation from our sponsoring APA divisions. Thank you to these divisions and to the volunteers who served on this year's jury:
2015 Award Fund Contributors
Housing & Community Development Division
Planning and the Black Community Division
Small Town and Rural Planning Division
Transportation Planning Division
2014
Congratulations to the University of Michigan's Urban Planning Student Association (UPSA), winner of APA's 2014 Outstanding PSO Award.
UPSA's "Expanded Horizons" event was planned by second-year Master of Urban Planning students as a way of introducing incoming first-year students to a diverse set of topics and opportunities in the field of planning. The goal is to "expand the horizons" of graduate students who want to make a difference in helping cities grow and change in a way that promotes sustainability and social justice. This year's event took place in Toronto where students attended several site visits with companies and organizations doing work related to urban planning.
UPSA was recognized during the APA/AICP Annual Meeting and Awards Ceremony on Tuesday, April 29, at the 2014 National Planning Conference in Atlanta. UPSA received $1,150 in donations from sponsoring APA Divisions, including the County Planning Division, Housing and Community Development Division, Transportation Planning Division, and Urban Design and Preservation Division.
Read the project description (pdf)
2012
The SRC Award Jury selected the following entries to receive the fifth annual SRC awards.
The winning planning student organization (PSO) were recognized at the 2012 APA National Planning Conference in Los Angeles. This award also included $1,000 to each PSO to support its activities.
Best Practices
University of North Carolina–Chapel Hill Planners' Forum
The students are recognized for two events:
Divided Cities and Regions: Consensus Policy Conference
This impressive symposium featured nationally recognized academics, practicing professionals, and student presentations centered on consensus building and conflict resolution.
Pecha Kucha Presentations on Internships
These events gave first-year students an opportunity to hear about the types of internships available and allowed second-years to share their summer work experiences.
See photos from this project (pdf)
Read the students' project description (pdf)
Honorable Mention
University of Iowa, School of Urban and Regional Planning, Urban and Regional Planning Student Association
National Community Planning Month Events
Students organized two events to raise student awareness of ideological attacks on planning and how to address them appropriately in public forums. They were inspired by a presentation by Robin Rather, a communications consultant hired by APA to research sustainability and planning.
2011
The SRC Award Jury selected the following entry to receive the fourth annual SRC award.
The winning planning student organization (PSO) was recognized at the 2011 APA National Planning Conference in Boston. This award also included $1,000 to each PSO to support its activities.
Best Practices
Organization of Cornell Planners, Cornell University
Beyond Boundaries brought together a housing planner from the City of Portland, Oregon; the Director of the Hudson River Valley Greenway, which establishes conservation lands through voluntary regional cooperation; and the principal regional planner from the Chicago Metropolitan Agency for Planning (CMAP). They discussed the strategies employed by their organizations to build public support and input for public housing, transportation, equity and climate change issues. They demonstrated how communities engaged with these issues often face constraints or pressures from outside their local structures and how participation and coordination at the broader regional level helps a community meet its needs, share its stressors and enjoy a larger voice in the planning scenario.
Moving Forward, a widely popular event, brought together three nationally recognized experts in non-motorized transportation from research, advocacy and planning practice backgrounds to engage with students, faculty and community members around advances and ideas in policy and physical planning related to "active" transportation. Active transportation planning is a rapidly emerging topic that buttresses crucial community concerns through the development of physical plans that support personally powered transport. The related concerns deal with energy security, health, climate change, smart growth principles and neighborhood scale design, conservation lands, and corridor planning.
Project: Realizing a desire within the Cornell community to engage in applied-planning discussion, the Organization of Cornell Planners (OCP) chose to provide two forums where practitioners could demonstrate real planning successes and reflect on challenges faced by those in the field.
View a photo collage of the events (pdf)
2010
The SRC Award Jury selected the following entries to receive the third annual SRC awards.
Each winning planning student organization (PSO) was recognized at the 2010 APA National Planning Conference in New Orleans. This award also included $1,000 to each PSO to support its activities.
Best Practices
Organization of Cornell Planners, Cornell University
Social Justice and Unincorporated Communities: A Symposium
Project: The Organization of Cornell Planners (OCP) organized and sponsored a one-day symposium entitled: Social Justice and Unincorporated Communities: A Symposium, held on Friday, October 23 at Cornell University. We invited three speakers from across the country to discuss how cities and towns have been deliberately excluding disadvantaged communities from incorporating into their jurisdiction, rendering them without basic services such as water and sewer connections and police and fire protection. Without these basic services, people who live in these communities are hindered from the opportunity to live in safe, clean neighborhoods and benefit from the wealth-building potential of increasing property values. As cities become more fiscally strapped, these methods are increasingly justified under economic pretenses. Unfortunately, planners have been involved in these activities of municipal exclusion.
The members of OCP saw an innovative opportunity for students to catalyze a larger discussion in the planning community about municipal exclusion. By bringing together three different professionals that work on different aspects of the issue, including a community organizer, a legal researcher, and an associate at an advocacy think tank, to talk with students across the Cornell campus about this phenomenon, this enabled not only the professionals to conceptualize the topic in different ways but exposed students to an emerging issue in the planning field. OCP recognized the importance of the university in fostering these budding conversations about imminent issues in the field and used the symposium as an opportunity to launch the issue into a more mainstream discussion in the greater planning community. Furthermore, OCP recognized the pivotal role that students have in challenging the status quo of the field and encouraging more discussion about difficult, and often divisive issues.
Community Outreach
Graduate Planning Student Association, University at Buffalo
Buffalo Urban Planners (BuffaloUP)
Project: The association collaborated with a local NGO to teach local middle school students the fundamentals of community planning using the neighborhood surrounding schools as a living laboratory. Students learn about planning and design in the context of their own neighborhood and are engaged to discuss the implications of design and the role of their community.
2010 Award Fund Contributors
Housing & Community Development Division
Urban Design & Preservation Division
Ramona Mullahey
2009
The SRC Award Jury selected the following entries to receive the 2nd annual SRC awards in 2009.
Each winning planning student organization (PSO) were recognized at the 2009 APA National Planning Conference in Minneapolis. This award also included $1,000 to each PSO to support its activities.
Funding for this year's awards was provided by the following APA Divisions: City Planning and Management, County Planning, Environment, Natural Resources, and Energy, Federal Planning, Planning and Women, Economic Development, Housing and Community Development, New Urbanism, Private Practice, and Urban Design and Preservation.
Community Outreach
University of California – Irvine
Planning Student Organization
Projects: Upper Newport Bay Restoration and Neighborhood Pride Day – Santa Ana
Read about the PSO's winning projects (pdf)
Best Practices
New York University
Robert F. Wagner Graduate School of Public Service
Urban Planning Student Association
Project: Student Conference – Planning Ahead: Opportunities for Professional Growth
NY Metro Newsletter: September-October 2008 (pdf)
APA Student Conference Program (pdf)
Chapter Involvement
University of Colorado Denver
School of Architecture and Planning
Masters Program Urban and Regional Planning
American Planning Association Colorado Student Chapter
Project: PSO Green Committee contributions to APA Colorado Chapter Conference